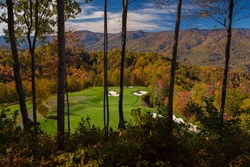 Best Golf Community of the Year - Balsam Mountain Preserve
Asheville, North Carolina (PRWEB) January 26, 2013
Real Estate Scorecard, a leader in online real estate reviews, announces the 2013 Bliss Award Winner for Best Golf Community of the Year, Balsam Mountain Preserve.
It was never Real Estate Scorecard's intention to honor a community two years in a row, however after visiting Balsam Mountain Preserve again, they felt they must. Last year, Balsam won Real Estate Scorecard's 2012 Bliss Award for Best Equestrian Community of the Year. Before Balsam was chosen again, Real Estate Scorecard asked for a second opinion from a friend who writes golf course reviews. Without telling him why he was asked, he described parts of the course as unnecessarily penalizing golfers by blind shots, although he would love to play it again. Not to discount his expert opinion, but the vision that came to Real Estate Scorecard's mind was being blinded by scenic mountain beauty. Balsam Mountain Preserve is one of the most beautiful mountain golf courses Real Estate Scorecard's ever seen and their feelings are not alone. During their stay at a competing golf community, they overheard property owners speaking in awe about Balsam's course designed by Arnold Palmer.
When Real Estate Scorecard asked Dennis Casey, its General Partner, who's played Balsam for his opinion about the course, he said "I want to be impressed and challenged by the golf course in my neighborhood". Balsam Mountain Preserve's golf course offers huge elevation variances from the tee-box to the greens. If look hard enough, you may see a home rooftop nestled in the woods. The close range mountain views from every direction would make a gorgeous postcard. This best master planned community in Western North Carolina is set in a nature preserve where only 400 families share 4,400 acres behind a gated entrance. Amenities include Balsam's award winning Equestrian Center, 30 miles of walking and riding trails, Ruby Valley Sports Center and The Boarding House Restaurant. Real Estate Scorecard dined several times at The Boarding House and is impressed with the continual friendliness of the staff, residents and first class food. As one of the property owners expressed on our scorecards, "When I'm not there, all I do is wish I was there. I've never enjoyed being somewhere more in my life". If you're searching for the best mountain golf course community in North Carolina, you must experience Balsam before you buy or build a home.
To see all of Real Estate Scorecard's 2013 Bliss Award winners, visit
http://realestatescorecard.com/breaking-community-news/best-community-of-the-year-2013-bliss-awards
About Real Estate Scorecard
Real Estate Scorecard is an unbiased real estate review website providing in depth information about the best master planned communities in Florida, Georgia, North Carolina, South Carolina and Tennessee, all in an effort to help people discover where to retire. Website address: http://realestatescorecard.com