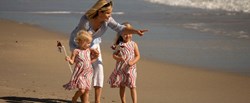 Best Beach Community of the Year - Orchid Island
Vero Beach, Florida (PRWEB) January 29, 2013
With 1,400 miles of coastline in Florida, you'd think it would be easy to find master planned communities with homes on the beach. Not so. Beachfront property was gobbled up decades ago by individuals and condominium buildings long before the concept of master planned communities hit the scene. So this year, Real Estate Scorecard's search began on the east coast and they quickly found a winner. Orchid Island is located on the barrier island, just north of Vero Beach, one of Florida's Best Art Towns. Real Estate Scorecard's walk on the beach brought them to the Sebastian Inlet State Park. Half of the two mile beach walk borders unpopulated nature preserves and gentle beach dunes.
This friendly beach and golf community is considered by many Vero Beach's most prestigious address. Half of the Orchid Island neighborhood is set along the Indian River and the other half borders the Atlantic Ocean. Their 25,000 square foot West Indies style clubhouse on the beach side overlooks the blue green Atlantic Ocean and mirrors a Ritz-Carlton Caribbean resort. On the river side, pastel colored homes with white roofs contrast the lush tropical foliage. Many of the Orchid Island deepwater homes have private boat houses and docks reaching out into the Indian River.
Orchid Island's 18 hole championship golf course was designed by Arnold Palmer back in the late 1980's. The golf course is meticulously maintained. Orchid Island has a new Wellness and Fitness Center offering classes, weight training equipment and spa services. Eight tennis courts are adjacent to the wellness center. You'd be hard pressed to find a more beautiful beachfront Vero Beach neighborhood. You can find homes for sale here under $1 million. Don't missing seeing Orchid Island, if you want to live at one of the best beach communities in Florida.
To see all of Real Estate Scorecard's 2013 Bliss Award winners, visit
http://realestatescorecard.com/breaking-community-news/best-community-of-the-year-2013-bliss-awards
About Real Estate Scorecard
Real Estate Scorecard writes unbiased real estate reviews, providing in depth information about the best master planned communities in Florida, Georgia, North Carolina, South Carolina and Tennessee, all in an effort to help people discover where to retire. Website address: http://realestatescorecard.com