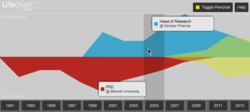 Cambridge, Mass. (PRWEB) January 29, 2013
Zapoint, Inc., the leader in social career management software solutions, announced it has been awarded U.S. Patent No. 8,352,311 from the U.S. Patent and Trademark Office (USPTO) entitled, "Internet Based Achievement and Skills Management Process and Method." The patent covers Zapoint's unique approach to quantifying and managing talent, including its LifeChart™ technology used within the company's Jobster and SkillsMapper applications.
SkillsMapper is a Web-based analytical tool that helps organizations identify and manage enterprise skills. This solution helps Human Resource departments actively engage their workforce with powerful career management tools, while providing decision makers invaluable insight into enterprise competency in a format that is instantaneous, interactive and highly relevant. At its core lies LifeChart technology, comprised of sophisticated scoring algorithm and search engine technology designed to capture, organize and measure individual skills and achievements. LifeChart takes an existing resume or LinkedIn profile and creates a graphically and interactive talent profile that enables objective comparison and analysis. With this critical piece, SkillsMapper gives employees the ability to showcase their skills, benchmark themselves against others in the organization, identify the areas they need to develop and the experience required to progress inside the company. Additionally, it provides organizations critical employee information to build virtual skills inventories that can be sorted by employee and department, and used to drive strategic HR processes, such as performance management, succession planning, recruiting and employee development.
"This patent further confirms the unique approach Zapoint has taken to offer customers a revolutionary technology that takes talent management to a new level," said Founder and CEO Chris Twyman. "Zapoint is helping customers implement a more efficient and strategic way to talent management and create a dynamic company network where employees are engaged in the talent management process."
About Zapoint
Zapoint is the leader in social career management solutions. The company provides Software as a Service (SaaS) applications for career management and organizational development to enterprises, recruitment firms, and universities in North America, Latin America and Europe.
Zapoint's solutions empower people to take ownership of their future by giving them the tools to analyze and plan their career path in order to make these plans a reality. Incorporating Zapoint solutions into the workplace empowers people to create a clear development path within an enterprise-wide social network. This constructs a sustainable, accountable and transparent approach to the internal talent culture by identifying, rewarding and inspiring employees to expand and hone their professional talents.
Zapoint solutions can deploy stand-alone, or can integrate with any HRMS and Talent Management system. For more information visit : http://www.zapoint.com.