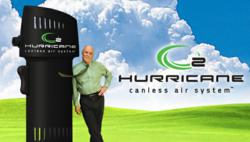 "I'd recommend it to anyone looking for a relatively inexpensive, permanent, and environmentally friendly alternative to canned air."-TechNibble.com
Scottsdale, AZ (PRWEB) January 29, 2013
A growing focus for business is sustainability and saving money doing so. The 02 Hurricane Canless Air System provides any size business with an opportunity to go green and save green while doing so.
"I think many businesses think switching to environmentally safer methods is expensive. Actually it saves money," says John Scherer, CEO and Founder of the 02 Hurricane. "Many businesses use so-called canned 'air' for maintaining electronic equipment, computers and other clean/dusting needs. It's not air, but instead a dangerous and even deadly mix of gasses an liquids. When the product is no longer useful, it has to be processed as hazardous waste according to standards set by the EPA. Simply put, it's a waste of money and resources."
What sets the 02 Hurricane apart from canned "air" products is it uses the air we breathe, drawing it in from the room and blasting it out a hurricane-force. It's also rechargeable up to 500 times so there no hazardous waste issues."
Scherer says that "As soon as you buy an 02 Hurricane you're saving money. Just one is equal to buying a thousand units of canned 'air. The math speaks for itself."
Scherer says the 02 Hurricane is a product for the times. "We sell the 02 Hurricane to Aerospace Giants like Raytheon. We also sell to small businesses like camera stores." Regardless of size, Scherer says "The goal is two-fold. Sustainability and saving money. Win-Win."
Learn more about the 02 Hurricane on Facebook, Twitter and YouTube. The 02 Hurricane is assembled in the USA at its factory in Tucson, AZ.