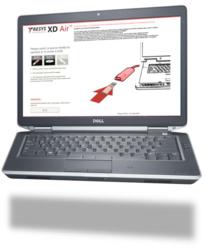 Tresys was working with the Government to develop Deep Content Inspection technology at the time of the DoD USB drive ban...We were able to rapidly modify that technology into a solution that alleviates the intrinsic threats that removable media present
San Diego, CA (PRWEB) January 30, 2013
Tresys Technology, a provider of technology and services for customers with high- security requirements, today announced the award of a delivery order to provide Tresys XD Air ™ [U.S. Government program name FiST] file sanitization tool appliances to the Department of Defense (DoD). XD Air enables DoD and coalition partners to safely move mission-critical data without compromising security or compliance and is the only DoD-approved solution for disinfecting USB devices and other portable media. XD Air works by enforcing the only operating policy that can protect an environment from Zero-Day malware exploits, permitting only known good content to enter a facility, network, or system.
Under the contract, Tresys provided more than 200 units of the appliances for use by DoD. All deliveries were completed in FY12.
In recent years, USB drives have been a primary attack vector for advanced viruses and malware, particularly for those targeted at physically isolated (air-gapped) networks and critical systems. As a result, their use has been restricted or even banned in the DoD community. However, with the development and fielding of XD Air, DoD has released a Communications Tasking Order (CTO) that specifically mandates the use of FiST [XD Air] as part of the requirement for implementation and compliance for using removable media on the Global Information Grid (GIG).
"Tresys was working with the Government to develop Deep Content Inspection technology at the time of the DoD USB drive ban so we were an obvious choice to respond to their need," said Tresys CEO Gary Latham. "We were able to work closely with the Government to rapidly modify that technology into a solution that alleviates the intrinsic threats that removable media present to networks supporting high-security missions."
About Tresys Technology
Based in Columbia, Maryland, with offices in Ashburn, VA, Tresys Technology solves the most complex information security problems for a wide array of defense, intelligence, and commercial customers. Tresys provides innovative product and services solutions for hard problems in Cross Domain, Deep Content Inspection, secure operating systems—including SELinux—mobile devices and OSs, and software assurance. Our knowledge of the secure design, certification, and accreditation of complicated custom hardware and software solutions, combined with insight into the sophisticated requirements of our customers, allows us to deliver innovative solutions to modern security challenges. The experience gained from solving real-world problems has enabled Tresys to develop industry-leading and authoritative services. For more information, visit: http://www.tresys.com.