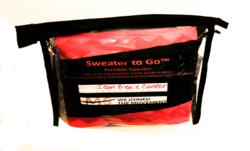 It's an ideal product for women on-the-go. A woman can keep it inside of the office desk for those chilly, winter days or inside of her purse for use during breezy, summer nights
(PRWEB) January 27, 2013
Many women have left their sweater at home when they needed it the most. A new product has been introduced to the market to take care of this issue. The product is called Sweater to Go.
Sweater to Go can be stored anywhere and used throughout the entire year. "It's an ideal product for women on-the-go. A woman can keep it inside of the office desk for those chilly, winter days or inside of her purse for use during breezy, summer nights," says Portia Boroumand, inventor of Sweater to Go and owner of Reliable Clothing.
The best part about all Sweater to Go units is that 20% of sale proceeds benefit two nonprofit organizations. These organizations are the American Breast Cancer Foundation and the National Multiple Sclerosis Society.
Sweater to Go consists of a Triblend sweater enclosed within a small, plastic, zipper pouch. The sweater contains Polyester, a wrinkle resistant fabric. Rayon, along with Cotton, is also included in it, thus giving it a comfortable fit and feel. Visit sweatertogo.com to learn more about the Sweater to Go product line.
About Reliable Clothing
Reliable Clothing is the leading go-to company when it comes to portable sweaters. We pride ourselves on providing quality products, great customer service, and helping charitable causes.