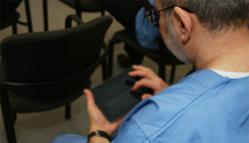 This is the first ePRO system that is capable of next-generation e-data acquisition including geo-positioning, Intelligent Follow-on™ questions and Smart Compliance™ measures built in to the base software.
Toronto, Ontario (PRWEB) January 30, 2013
PRO data is recognized by most regulatory authorities including the FDA and EMA as important and acceptable endpoints in clinical studies. PRO have historically been recorded on paper diaries requiring subsequent transcription which can introduce human error, data queries and time delays. Its electronic format (ePRO) offers many inherent benefits including increased quality and reduced time to database hard lock. Due to legacy software issues and logistics, this tablet-based technology has not been available from other vendors. Inflamax has devoted considerable time and resources to develop its ePDAT™ system to improve user experience, accuracy and quality, while ensuring compliance with FDA and EMA requirements for validated ePRO data collection tools. ePDAT™ is fully CFR21 part 11 compliant.
"Although ideal for any type of PRO data collection, the ePDAT™ is the first ePRO system specifically designed to meet the needs of allergy and asthma clinical trials as well as Environmental Exposure Chamber (EEC) studies. Data can be collected in the EEC and at home with ease. Our validation studies have shown an enormous preference to using this system versus the traditional paper diaries. We are excited to have this technology available for our upcoming EEC and field hybrid studies. This is the first ePRO system that is capable of next-generation e-data acquisition including geo-positioning, Intelligent Follow-on™ questions and Smart Compliance™ measures built into the base software." says Dr. Piyush Patel, CEO of Inflamax.
The validated ePDAT™ system provides a graphical user interface via a touch screen tablet computer designed to provide a vastly improved user experience. PRO data can be collected by a number of methods which include on-screen questionnaires, visual analog scales (VAS), response time, coordination tasks, high resolution image capture and evaluator interview via video conferencing. Security features include unique password and free hand signatures. Improved software architecture allows patient data to be recorded in real-time directly via the tablet's cellular wireless connection to our secure database servers. The data are also stored locally on the tablet as back-up. Hard locked data in any format required by the client is available as soon as the last subject is completed.
Inflamax's Smart Compliance™ system incorporates built-in compliance feedback involving the Inflamax Compliance Team communicating real-time with enrolled subjects via push messages, text messages and video or audio links. Compliance enhancing initiatives including newsletters can be pushed to the tablet as needed. Studies have shown that such enhanced compliance measures significantly improve the compliance and quality of data collected in clinical trials. Intelligent Follow-on™ allows for protocol-specific, pre-programmed and approved, follow-on questions to be posed based on previous responses for PRO and adverse event data collection.
The ePDAT™ system was developed in partnership with Logos Technologies, the leaders in early phase data acquisition technology. The Inflamax phase one unit already has ALPHADAS, Logos Technologies' pre-eminent eSource bedside EDC system, enabling paperless phase I studies that deliver real time 'report ready' data. ePDAT™ integrates with ALPHADAS to ensure seamless data delivery for Inflamax sponsors and partners.
About Inflamax
Inflamax is a full service Contract Research Organization (CRO) specializing in Proof of Concept as well as Phase I through IV studies in allergy, asthma, ocular and dermatology utilizing EEC technology. Inflamax conducts single and multi-center Environmental Exposure Chamber (EEC) and field studies. In addition to Inflamax Research's Mobile EEC™ systems which can be positioned globally, Inflamax has 2 fixed EECs at Inflamax headquarters in Toronto, Canada. Inflamax's EECs have been validated for study of allergy to ragweed and grass and also for the study of dry eye syndrome (utilizing low humidity EEC conditions). Validations are currently in process for cat and dust mite allergens and are expected to be completed in Q1'2013, thereby making the EECs suitable for clinical studies to test medications for perennial allergies.
About Dr Piyush Patel
Dr. Piyush Patel, Inflamax's CEO is an industry veteran who has been in the forefront of development in EEC technology. Dr. Patel is an author of several patents relating to EEC technology and has been involved in the development of many mainstay anti-allergy drugs and immunotherapies currently on the market. He was the owner of Allied Research International; a CRO specializing in EECs, which was sold in 2007. Dr. Patel was also named Entrepreneur of the Year in 2008 for his work in building that company.