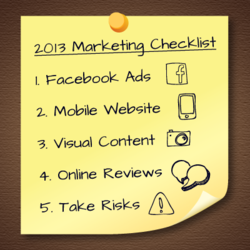 Don't throw your money away on old-fashioned marketing initiatives that don't give you the return on investment like they used to. Stop doing what isn't working and take a chance on something new.
Andover, Massachusetts (PRWEB) January 28, 2013
Effective Student Marketing, a full-service marketing agency that specializes in higher education, is revealing its top Internet marketing tips for 2013. The team from Effective Student Marketing has utilized these marketing strategies in customized marketing campaigns they've created for their top clients. All of these Internet marketing tips have been tested, implemented, tracked, and analyzed to prove their effectiveness and return on investment. Now Effective Student Marketing is releasing these tips in hopes of helping other career schools meet their lead and enrollment goals amid an increasingly competitive market. Here are the top Internet marketing tips for 2013 from Effective Student Marketing:
1. Invest in Facebook Ads – If there's one thing that needs to be a part of your school's marketing strategy in 2013 it's investing in Facebook ads. Facebook is one of the most visited sites on the Internet, which makes it a powerful tool for reaching your target audience. Facebook acts as the new word-of-mouth marketing, so you can bet your prospects will be checking your page before they decide to enroll. That means the more fans your school's page on Facebook has, the more trustworthy your school becomes. Investing in Facebook ads will allow you to grow your audience exponentially. Facebook has just added conversion tracking, making it even easier to track the impact of your Facebook ads and analyze the return on investment.
2. Be Mobile Friendly – Today's prospects are on the go and they're searching for information on your school on their mobile phones. We've found that nearly 50% of our clients' website traffic is now coming from mobile devices. If you think the desk-top version of your school's website works just fine on a mobile device - trust us, it doesn't. You need to create a mobile site for your school that makes it as easy as possible for mobile visitors to get the information they need and then fill out a form with their contact information. We've built mobile optimized websites for our top schools and ran online ads targeting mobile users. This resulted in a 493% increase in online leads, plus an additional 460+ mobile click-to-calls. A mobile site and mobile ads are solid investments in 2013.
3. Create More Visual Content – Hopefully you're already blogging for your school as part of your marketing strategy. Your blog is a great way to reach new prospective students who are interested in training for a career your school offers, but who aren't necessarily familiar with your school. We've written an entire e-book on this topic called "Escape the Rat Race of Student Lead Generation." The new blog marketing trend for 2013 is to create more visual content, like infographics and images, and to cross-promote it across all of your social media sites. This type of visual content is very appealing to your audience, making it easier for them to read, respond to, and share with friends. Recently we've witnessed huge growth in visual social sites like Pinterest and Instagram. By promoting your content on these popular sites, you have the opportunity to generate an enormous amount of new traffic to your school's website.
4. Own Your Online Reviews – You need to take ownership of your online reviews in 2013 if you haven't done so already. People are talking about your school online and you should know what they're saying. Your prospects will be researching your school on these sites like Google Places, Yelp, Yahoo Local, College Prowler, and Student Reviews, as part of their decision making process. One negative review could be enough to keep them from enrolling. In fact, Vocus recently found that 64% of social media users say that social media sites influence their buying decisions, up from 34% the previous year. This year you should claim your school on all of these review sites so you have the ability to respond to negative comments. When you're responding, you should be calm, diplomatic, and express that you care about what this person thinks about your school. Responding to your online reviews shows that you're committed to improving the student experience at your school. That speaks volumes to prospects who are reading these online reviews as part of their decision process.
5. Take Risks To Improve Your ROI – Chances are your school is wasting valuable marketing dollars that could be better spent elsewhere. Start the new year off right by reviewing the performance of every marketing line item. Invest more money in the campaigns that are performing well and optimize them to their full potential. For the items that aren't performing, stop investing in them! Use that money to fund new marketing initiatives that you haven't tried before. Maybe you've been flirting with the idea of investing in a mobile site or one of the other ideas we've listed above. Now is the perfect time to try them out! Don't throw your money away on old-fashioned marketing initiatives that don't give you the return on investment like they used to. Stop doing what isn't working and take a chance on something new. You can potentially reach a whole new demographic of prospects you never would have reached before.
If you found these Internet marketing tips to be helpful, there's a new e-book from Effective Student Marketing that details how to create an online marketing campaign that will get your school more high quality leads. You can learn these marketing secrets by downloading the new e-book "Escape the Rat Race of Student Lead Generation."
Effective Student Marketing, Inc. is a marketing agency that specializes in creating customized marketing campaigns to help schools achieve their enrollment, retention, and placement goals. Their services include social media marketing, search engine marketing, content creation and distribution, web design and optimization, reputation management, and cost-per-lead management. You can find us at http://www.EffectiveStudentMarketing.com or call us at 978.475.0880