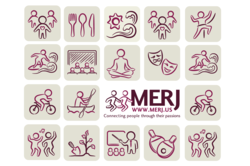 MERJ is one of the only places where creative and active singles can connect online.
Brooklyn, NY (PRWEB) January 27, 2013
MERJ LLC announced the beta release of their online web platform, one that offers an alternative way for creative and actives singles to connect and date online. MERJ curates fun activities to do in New York and San Francisco and also organizes events for both singles and couples.
"Some people have good experiences with online dating but the vast majority do not," says Katy Walker, Co-founder and Chief Creative Officer at MERJ. "My personal experience, as well as that of many people I have talked to, was a nightmare. For the first dates I finally went on, after messaging people for about a week, we had no idea where to go or what to do, and ended up at a bar with not much to say to each other. For busy professionals to follow through with a specific date, they need curated events and activities. This helps create a conversation around a shared interest, hopefully resulting in a fun experience with a partner. There are so many fun things to do in New York City and San Francisco but doing them by yourself is neither preferable or an option, so we're here to help people find partners to share these experiences with."
Yet another online dating site?
Though co-founder, Katy Walker, had finally given up on online dating, she was inspired to offer a completely alternative way for creative and active singles to connect online. She had more luck using niche dating sites and felt like dating on mainstream sites was like trying to find a needle in a hey stack. For example, with some internet services, one can suggest dates with Jewish singles, or even vegetarian singles but since these services offer a similar unproductive, awkward, and time-consuming experience, they are mostly ineffective.
MERJ opts to nix the long, often fake, profiles and tiresome endless messaging and instead focus on "invitations". The MERJ team developed an online platform that allows singles to find an activity they enjoy and a partner who shares their interests. An invitation is quickly and easily sent to the potential partner who then confirms the date – much like how one will invite someone to join his/her LinkedIn network. It could also be described as like a Meetup for active singles, whereby members connect through shared interests .The MERJ target demographic is singles aged 30+ who are tired of the bar scene and are more serious about finding a life-partner, but are also looking to have some fun and enjoy activities in their area.
Shared interests
Having something truly in common with someone is more than just about matching algorithms, lengthy questionnaires and nice profile photos. MERJ members highlight their interests in their profiles, allowing fellow members to see their profiles only if they match their preferences and share the same interests. Recommended activities are similarly displayed based on one's interests.
Working with local businesses
Committed to supporting local businesses and communities, the MERJ listings include fun activities such as rock climbing, volunteer opportunities, meditation and yoga sessions, indie film nights, dance classes, deals on comedy shows and theater tickets, and much more. These activities are a great way to get involved in one's community and to try something fun.
Free Events for singles
The second MERJ AcroYoga session with Sandhi Ferreira is Saturday, March 22nd at OM Factory, Union Square, New York, featuring music by DJ EKO. This event is free for singles and MERJ members and $25 for couples.
Address: Om Factory, 873 Broadway, 4th FL
Activity Time: Saturday, March 22nd 8 pm - 11:00 pm
Event website: http://blog.merj.us/events/
Pricing and Availability
MERJ membership is free during beta. Available in New York and San Francisco, with more cities planned.
MERJ is an online dating community in New York and San Francisco that allows members to interact through local activities, events, and deals tailored to their interests. Whether you are an avid adventurer, busy workaholic, or just someone who enjoys the outdoors, we allow you to focus on your interests and passions, and have a fun on your date, no matter if it results in a romantic match.