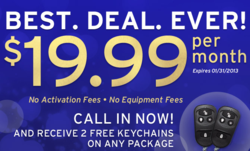 Austin, Texas (PRWEB) January 28, 2013
Wireless home security systems provide unrivaled security and savings. Customers that choose a wireless home alarm system from Protect America can choose a monitoring agree starting at $19.99 per month. Unlike other home security providers, Protect America doesn't charge for equipment. Just continue to pay your monthly monitoring fee and your equipment is free!
"This offer represents a major price savings for home security customers," said Scott Fleming, Protect America's executive vice president. "No other company can match our prices but we're not just an affordable option. Protect America is dedicated to the security of your home, which is why we only use reliable equipment from GE Security."
Every security package sold by Protect America includes up to 15 door/window sensors, a motion detector, a GE Simon XT control panel, three window stickers, and a yard sign. Customers also have their choice of landline, broadband, or cellular monitoring solution. Wireless security systems also give customers greater customization options, such as smoke detectors, interactive video surveillance, and flood gauges.
"As a company, we are genuinely invested in the security of our customers' homes," Fleming added. "Too many homeowners fail to make adequate home security plans. Our wireless solution puts reliable security within the budget of most American households and gives them options they may not have known about."
In addition to wireless home security systems, Protect America also offers home automation equipment and GPS vehicle tracking. Every home alarm system sold by Protect America includes a Lifetime Replacement Parts Warranty. If a part breaks or needs to be replaced, Protect America immediately ships a replacement.
About Protect America, Inc.
Founded in 1992, Protect America, Inc. is based in Austin, Texas and employs approximately 300 people. A pioneer of the self-install wireless home alarm system, Protect America is part of the same family of companies that includes Quicken Loans and the Cleveland Cavaliers. For each of the past 6 years, Protect America has been named the number one home security company in the U.S. by Top Consumer Reviews. Protect America is dedicated to providing reliable and affordable home security that's within the reach of any household budget.