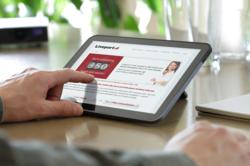 "[Open-Mesh] allows us to deploy guest wireless networks in hours instead of days, and build off whatever infrastructure is already in place in the hotel."
(PRWEB) January 30, 2013
Liveport Corporation, a leading provider of wireless Internet services for hotels and resorts, announced today that they have installed Open-Mesh wireless Internet systems in 350 hotels.
The milestone was reached early this year, and is in addition to the 25 hotels Liveport services that run competing systems from Meraki.
Liveport transitioned to Open-Mesh in 2009 to take advantage of technology more suited to the hospitality market and realize significant cost savings. The transition has accelerated business growth, noted Gerry Bakker, Liveport's President.
"We like the way the Open-Mesh units just work," said Bakker. "In the several hundred hotels in Canada, the U.S., Australia and the U.K., we have yet to find a property where Open-Mesh hardware can't deliver the speed and connectivity guests are asking for today."
Though Liveport initially focused on small, family-run hotels, the company has expanded into everything from boutique properties to five-star resorts with more than 900 rooms. Liveport is currently adding one hotel every two or three days on average.
"The Open-Mesh system has the ability to scale to fit any property, from five rooms to five thousand," said Bakker.
Liveport primarily uses the Open-Mesh OM2P Series wireless-N access points. The cloud-managed access points include a hardware watchdog circuit that makes the units extremely reliable even in installations with poor AC power that would lockup other WiFi equipment. As part of the Open-Mesh modular platform, the access points can be installed in outdoor enclosures and indoor ceiling, wall-plug and Ethernet jack enclosures.
"The modular system is a key advantage," added Bakker. "It allows us to deploy guest wireless networks in hours instead of days, and build off whatever infrastructure is already in place in the hotel. The end result is ideal: strong WiFi where guests need it and no blinking lights to distract hotel guests or make the access points targets for theft."
Open-Mesh routers include a free license for CloudTrax, Open-Mesh's cloud-based network controller that automatically configures all access points. Features include custom SSIDs for both the public and private networks, bandwidth throttling, real-time and daily summary notices of any issues, and over a dozen landing page templates and an easy WYSIWYG editor.
"The Open-Mesh Cloud Controller gives us flexibility in designing the terms and conditions pages, payment options and redirects, allowing Liveport to meet all major chain brand standards and, more importantly, keep guests and hotel managers happy," said Bakker.
"We work continually with Liveport to optimize the product for the hospitality industry," said Michael Burmeister-Brown, President of Open-Mesh, Inc. "Their advice and suggestions have been invaluable."
"The OM2P Series access points, along with service and support from Liveport, prove that robust managed WiFi systems can be affordable for any hotel," added Burmeister-Brown.
About Liveport Corp.: Liveport provides wireless Internet in more than 35,000 hotel rooms throughout North America, Australia and the United Kingdom. Customers include Starwood Preferred Guest, Intercontinental Hotel Group, Choice Hotels International, Wyndham Hotel Group, Best Western, and dozens more. Liveport provides an end-to-end solution for hotels, packaging all planning, access points, installation, upgrades and 24/7 toll-free guest technical support for $2.99 per room, per month.
About Open-Mesh, Inc.: Open-Mesh is a manufacturer of wireless devices and network controllers tuned to meet the needs of the hospitality, enterprise and MDU industries. Providing its own tuned hardware and software for these markets, it also supports industry-standard billing controllers to give customers the maximum flexibility possible.