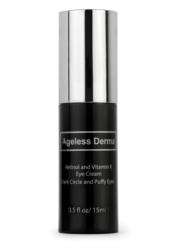 "This study by a prestigious medical school is exciting. We are committed to staying abreast of new developments that can help our customers get the anti-aging results they desire. We were able to formulate an effective eye cream based upon the results of
Anaheim, California (PRWEB) January 31, 2013
The desire to eradicate puffy lower lids and dark circles under the eyes is being addressed by Ageless Derma, the innovative anti-aging skincare company based in California. Motivated by a medical study showing positive results for reducing dark circles and puffiness under the eyes, Ageless Derma developed Ageless Derma Retinol and Vitamin K Eye Cream to diminish these conditions.
The study conducted at the Nippon Medical School in Tokyo, Japan, showed a gel including 2% phytonadione (Vitamin K), 0.1% retinol (Vitamin A), and 0.1% vitamins C and E effective in reducing dark circles and wrinkles in healthy Japanese adults. The results of this study were published in the Journal of Cosmetic Dermatology. To learn more visit: http://onlinelibrary.wiley.com/doi/10.1111/j.1473-2130.2004.00070.x/abstract
Volunteers with dark circles under eyes and wrinkles on lower eyelids ranging in age from 22 - 57 years old applied the gel twice daily for a period of eight weeks. Results for these 16 males and 41 females produced an 81% success rate.
"This study by a prestigious medical school is exciting. We are committed to staying abreast of new developments that can help our customers get the anti-aging results they desire. We were able to formulate an effective eye cream based upon the results of this study and others with similar findings," stated Dr. Farid Mostamand, founder and owner of the Ageless Derma skincare line.
There are several reasons for dark, puffy areas under the eyes including aging, allergies, poor diet, and lack of sleep. The skin under the lower lid thins with age due to loss of fat and collagen and bluish blood vessels become more visible. Some theories suggest dark circles are caused by sluggish blood flow to that area. Vitamin K has been found to increase blood flow and fade dark areas when applied in proper concentrations.
Another study published in the Journal of the American Academy of Dermatology showed the application of vitamin K to reduce bruising. After receiving laser treatments to diminish small veins on the face, one group applied a placebo and the other half applied topical vitamin K. The result was a significant reduction in bruising in the group using the vitamin K .
"The beauty of our Ageless Derma Retinol and Vitamin K Eye Cream is that it can eliminate dark circles and reduce wrinkles and puffiness in just weeks. Our customers also have the benefit of using a safe formula made with natural ingredients," said Dr. Mostamand.
Ageless Derma Retinol and Vitamin K Eye Cream formula includes:
Vitamin K: Officially known as phytonadione, Vitamin K encourages blood flow and can even out skin tone and diminish discoloration.
Retinol: As a pure form of vitamin A, it promotes skin regeneration and collagen growth.
Vitamin C: An antioxidant that protects skin from cell damage and renews itself and protects the skin from ultraviolet rays.
Vitamin E: An antioxidant that prevents wrinkle formation by blocking free radicals, boosts collagen production, and supports new skin cell growth.
Ageless Derma also offers Ageless Derma Stem Cell and Peptide Anti-Wrinkle Cream, Ageless Derma Anti-Aging Skin Brightener, and Ageless Derma Natural Anti-Aging Mineral Makeup.
About Ageless Derma:
Ageless Derma hosts a team of medical and science professionals sharing thirty years combined experience. Ageless Derma is accredited with the Better Business Bureau and offers a 30 day money back guarantee. Ageless Derma products are available at Focus Medical Spa in Anaheim, CA, through the website http://www.agelessderma.com, or toll-free (877) 777- 1940. For more information on Ageless Derma, please contact Dr. Farid Mostamand at mostamand5@gmail.com or call (877) 777-1940.