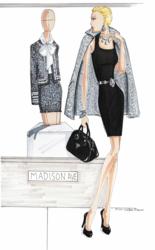 Style is subjective. This eBook is meant to inspire...
Silicon Valley, Calif. (PRWEB) January 30, 2013
Urban Darling, the San Francisco Bay Area-based boutique wardrobe stylist agency known for "closet audits" and its "Purge, Merge, Splurge" approach to wardrobe repair, announced today that it will publish the eBook, 9 Types of Style, on Wednesday, January 30th. The eBook will be the first in a series of four to be released throughout 2013.
The 9 Types of Style eBook explores style types commonly seen by Urban Darling wardrobe stylists, from the classic to the unexpected. The wardrobe stylists have deemed the nine styles:

Uptown and Elegant,
Sexy and Bold,
Whimsical and Romantic,
Tailored and Preppy,
Natural and Eco-Chic,
Eclectic and Independent,
Boho and Gypsy,
Men's Inspired, and
Avant-garde.
"We believe that these nine styles are alive and well in our modern age," says Urban Darling founder, Corinne Phipps, "but we also acknowledge that style is subjective. This eBook is meant to inspire women to define and refine their personal style and to explore new styles, not to serve as a comprehensive guide to fashion.
"We also believe that every woman is a mix of at least two styles. You can be Sexy and Elegant, for example, or Men's Inspired with a touch of Preppy. It's about celebrating what makes you unique.
"Urban Darling professional wardrobe stylists use the nine styles as a baseline to understand their clients and to assist in building a wardrobe they can count on," Phipps adds.
The eBook will be available free of charge to clients and newsletter subscribers via the company's website, http://www.urbandarling.com. Anyone may join.
Urban Darling, founded by Corinne Phipps in 2006, provides in-person and virtual wardrobe styling services to men and women across the United States through its network of 25 personal stylists in twelve states.