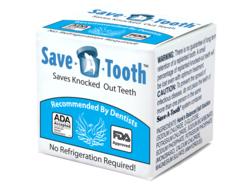 The Save-A-Tooth is an unexpected "must-have"for the savvy traveler
Wayne, Pa (PRWEB) January 26, 2013
Her e-book: The Travel Authority: Essential Tips for Hassle-Free Travel, provides hundreds of essential tips and indispensable advice for how to deal with all manner of unpleasant surprises that tend to crop up while on the road or abroad. From packing savvy to negotiating with the front desk, to losing your passport to drinking the water – Jeanine's e-book has a solution to just about every potential trip-ruiner she has encountered.
According to Jeanine, The Save-A-Tooth® is not just for the medicine cabinet, but could be even more important while traveling. Teeth get knocked out more often than one would think – whether it be skiing in Colorado backcountry, tripping over a cobblestone in Rome, or a pub brawl in Ireland, a traveler has less than sixty minutes to find a dentist who can replant it or the tooth dies. The likelihood of finding a dentist in this period of time is obviously very unlikely. Alternately, The Save-A-Tooth® can store, transport and preserve knocked out teeth for a minimum of 24 hours. The Save-A-Tooth is also found in the Complete First Aid kit.
"This is the kind of knowledge you can only get from living through disasters on the road and I have compiled all of the great advice I wish I could have given myself before I experienced them," says Jeanine Barone, author of the beloved e-book, available in paperback or on a e-reader like Kindle or Nook.
Jeanine is always seeking out under-the-radar sights and travel related products that make travel easier and more enjoyable, whether it's in her own backyard or halfway around the world. Her work has appeared in dozens of publications, including National Geographic Traveler, the Boston Globe and Travel + Leisure.
More of Jeanine's must-have gear reviews can be found at JTheTravelAuthority Gear Review or follow her on twitter at @jcreaturetravel
Phoenix-Lazerus, Inc. manufactures and distributes the Save-A-Tooth® system and the Complete First Aid kit. It has been in business since 2001 and is dedicated to producing products completely made in the USA with 100% USA-made parts. It is also the tooth transportation system in the Store-A-Tooth system, the leading transporter and cryogenic storage system for dental stem cells.