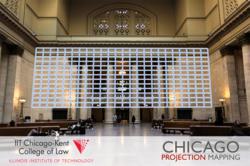 We're really excited to create such a grandiose experience for this iconic space.
Chicago, IL (PRWEB) January 31, 2013
Chicago Projection Mapping (CPM), a Chicagoland-based content and 3D projection company, is providing a marquee projection mapping display for IIT Chicago-Kent College of Law's 125th Anniversary Gala, held February 23rd at Chicago's Union Station. The gala sets the stage a unforgettable display, using the iconic north wall of Union Station's great hall as the "screen" for projection.
The one-night-only event will culminate in a projection mapping show created by CPM, incorporating the rich history of the Chicago-Kent institution with cutting-edge animation and mapping techniques. The show is slated to feature dozens of perspective effects and tricks of light, including views of the city, transformation of the wall into dozens of environments, and an enormous recreation of the construction of the wall itself, united by common elements of IIT Chicago-Kent's 125 years of education and innovation in the field of law. The final product, produced in conjunction with local Chicago media group Absolute Vision Productions, will be the culmination of over four months of technical and creative efforts.
"We're really excited to create such a grandiose experience for this iconic space", said Mark Smith, owner of Chicago Projection Mapping. "Projection mapping can be so powerfully entertaining, yet still be at home in a professional or business setting. We're happy that Kent and other organizations see the value of bringing this incredible display to their events."
3D projection mapping is an emerging visual medium, where artists are able to use conventional projectors to display video and motion graphics upon 3D objects, to create the illusion that the objects are moving, morphing, and changing structure. The medium is exploding in popularity among big-name brands, trade shows, and product launches, and Chicago Projection Mapping has brought the power and impact of these displays to the general corporate and professional market.
This is display marks a turning point for the public visibility of Chicago Projection Mapping. Beyond architectural mapping, CPM offers a number of specialized services across a spectrum of purposes, including 3D building mapping, car mapping, store displays, temporary and permanent installations, special events, and trade shows. For inquiries or a free quote, please email info(at)ChicagoProjectionMapping(dot)com.
About Chicago Projection Mapping: Based in Chicago, IL, Chicago Projection Mapping is a full service content creation and 3D projection mapping company, serving the corporate, event, meeting, and convention sectors. For more information, please visit http://www.ChicagoProjectionMapping.com, or call 630-620-0000.