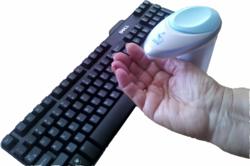 "I can now confidently say that we are being proactive in fighting the spread of infections within our facility and in our community.
Somerdale, NJ (PRWEB) January 29, 2013
Library Automation Technologies, Inc. (LAT), a leader in public use automation products, is pleased to introduce a patented qkCLEAN™ system designed to fight flu by arresting or minimizing spread of infectious diseases by "enforcing" the cleaning / disinfection process before use of equipment is allowed. Designed primary for public institutions that provide services to many people on daily basis (such as libraries, schools, government buildings, airports, etc..) the system prevents operations of any share-use computer equipment until disinfection process is performed.
"Simple act of wiping a hands, keyboard and mouse with a sanitizer before each use can reduce a spread of flu by a significant factor", - says Dr.Marsh of Kennedy Health System, - "yet, even with bottles of sanitizer readily available, very few people actually bother to use it! What a shame!"
qkCLEAN™ system is a smart combination of software and hardware sensors that makes process of "cleaning" both detectable and enforceable. Via simple USB connection, qkCLEAN™ allows or disallows use of equipment until the sanitizing process is successfully performed. Rules (such as how often to clean, how long, after each use, after each person, or on periodic schedule) are established and defined by system administrator. Logs and reports are also available to administration to help monitor actual use, notify when refill is required, identify peak use times and stations, etc.
"Introducing this simple interrupt in normal operation gives an average user an opportunity, or pause, if you will, to do the right thing and clean their hands! Ether action will reduce spread tremendously!" – said Joe Moore from Moorestown Public Library after reviewing the product.
The product was designed and build based on knowledge and experience gained over many years of manufacturing and deploying public use systems and kiosks. Building on knowledge and feedback of a number of existing installations throughout the country and responding to "outcries" and demands to do something proactive in public environment, in the face of flu epidemic, LAT's qkCLEAN™ system provides a viable low cost solution to protect the public and minimize risk of communicable infections spread via contact with common use surfaces.
Priced at $79/unit in single quantities (volume discounts available), qkCLEAN™ is available now from LAT and its distributors. Additional features and capabilities are described at: http://www.qkCLEAN.com