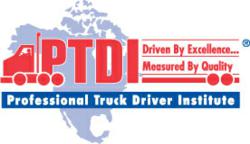 The PTDI certification process makes you look at what you're doing.
Alexandria, Virginia (PRWEB) January 29, 2013
With truck driver training programs facing growing competition, companies like SAGE Corporation continue to seek PTDI course certification as the qualifiying edge they need. PTDI recently recertified courses at two Sage Technical Services' locations in Idaho: Caldwell and Coeur d'Alene.
According to Barbara Blake, western regional director for the SAGE Corporation, SAGE first sought PTDI certification in the early 1990s. "We wanted to take those first schools to the next level," Blake explained. "Particularly for our independent schools, we needed to get our name out there and get established. PTDI was important to our entire company at the time. PTDI makes good business sense, especially in some of our locations where the competition gets fierce — it gives us that one step up. And we get so many referrals from PTDI."
During its more than 20-year history, six of SAGE's 24 driver training programs have obtained PTDI course certification. "In those areas where these schools operate, we're going above and beyond what our competitors can offer," Blake said. "The savvy consumer following due diligence will go online to research programs. When they see the PTDI logo and identify it with that school, it provides that extra level of confidence. Back in 1994 when I started in this industry, that wasn't the case."
Seeking PTDI certification has been "a progressive business decision over the years," Blake said, based on the program's geographic location. "We felt that in particular locations, PTDI made sense, giving us that advantage over the competition, especially in areas where a lot of over-the-road carriers are hiring from PTDI-certified programs."
When consumers call around asking about specific truck driver training programs, Blake said, "One question they ask is, 'is your school offering a PTDI-certified program?' When we can say we do, it really does make a difference."
As the Federal Motor Carrier Safety Administration (FMCSA) continues to work toward adopting federal safety regulations, Blake said she sees the industry being very supportive of putting safe drivers on the road. And that bodes well for PTDI. "The industry is concerned about the public, their drivers and their freight, and their customers. Safety is very different than it was in 1994 when I started here. PTDI has absolutely been a part of that."
During her tenure with SAGE, Blake has been through the PTDI certification and recertification process many times and has served on PTDI team visits to review programs at other schools. What Blake has found is that, "The PTDI certification process makes you look at what you're doing to ensure you're moving forward, changing what you need to change, and that you're really doing what you say you're doing."
In addition to their programs benefiting from the process, Blake said, "The public is benefiting because our drivers are generally safer. We know they've gone through thorough training."
She envisions the schools will continue to apply for recertification for these reasons, as well as to help them move forward into the future. Plus, she noted, "Once you get that certification, you hold onto it. It's a big challenge and we've met it, and we're excited about that."
###
PTDI is a national, nonprofit organization established for the twofold purpose of developing uniform industry skill, curriculum, and certification standards for entry-level truck driver training and motor carrier driver finishing programs, and certifying entry-level truck driver training courses at public and private schools and driver finishing programs at carriers for compliance with PTDI standards. PTDI is based in Alexandria, Virginia.