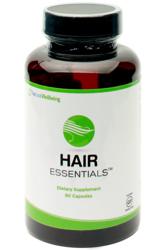 "While there isn't enough Fo-Ti in Hair Essentials to immediately impact a person's sex drive," said Paulina Nelega, registered clinical herbalist for Hair Essentials, "it can help to support overall vitality, including sexual energy."
McDonough, Ga. (PRWEB) January 29, 2013
Hair Essentials, a leading dietary supplement that naturally combats hair loss and nourishes thicker, healthier, faster-growing hair, may also help spark love this Valentine's Day.
Hair Essentials is a proprietary blend of more than 20 hair-healthy nutrients and herbs, including Fo-ti root (Polygonum multiflorum), a classic Chinese herb that has long been viewed as a natural aphrodisiac.
"While there isn't enough Fo-Ti in Hair Essentials to immediately impact a person's sex drive," said Paulina Nelega, registered clinical herbalist for Hair Essentials, "it can help to support overall vitality, including sexual energy."
In traditional Chinese medicine, Fo-ti is considered to 'build the blood.' It nourishes the blood as well as other body fluids, including the sexual and reproductive fluids. Fo-ti is also renowned for strengthening 'vital energy' (qi), believed to regulate hair health. It may even stop premature graying and help restore hair back to its natural color. According to legend, its common name, He Shou Wu ("black-haired Mr. He"), is derived from the name of a Tang dynasty ruler whose long life and ample fertility was attributed to this herb.
This Valentine's Day, nourish your hair and your sex drive with Hair Essentials. Use coupon code: LoveHE from 1/29 – 2/15 for a 14% discount on your Hair Essentials order. To learn more about Hair Essentials, visit http://www.HairEssentials.com.
Hair Essentials is 100 percent drug-free, certified gluten-free, manufactured in the USA, and effective for all hair types. Hair Essentials offers a 90-day, full money-back guarantee.