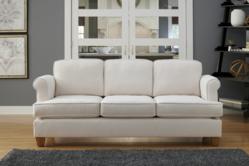 there are no new innovative companies in wood furniture manufacturing left in North America. Jeff Frank's company [Simplicity Sofas] might be the closest thing to it in upholstery manufacturing.

Robert W. Mark, CEO Robert Mark Consulting
High Point, NC (PRWEB) January 28, 2013
The Washington Post periodically features profiles of local Washington DC area businesspersons.Today's edition features Jeff Frank, owner of Simplicity Sofas, a High Point, NC furniture manufacturer and e-commerce retailer specializing in Furniture for Small Spaces.
What is the Washington DC connection? For six years Mr. Frank has commuted back and forth between his furniture company in High Point, NC and Bethesda, MD, a Washington DC suburb, where he has lived for 20 years. Most weekends were spent at home in Bethesda. Weekdays are devoted to working in North Carolina.
Mr. Frank began his 6 hour commute in February, 2007 with an idea for a new furniture manufacturing and e-commerce company. He spent ten months preparing the company, creating prototypes with co-inventor Glenn Laughlin, developing an e-commerce website, opening an office/showroom and arranging for manufacturing facilities in High Point, NC.
Simplicity Sofas opened to the public in November 2007, three weeks before the official start of the Recession. Over the next five years, during a period when 40% of American furniture manufacturers closed their doors, Simplicity Sofas annual sales grew from $0 to nearly $1 million through a series of innovative products and strategies. The small business received no government assistance.
In December 2012 Simplicity Sofas won the $20,000 Grand Prize for the SMB (Small/Medium-size Business) Innovator Award, a national contest sponsored by Phonebooth, Division of Bandwidth.
Simplicity Sofas earned the award for innovations in four different facets of the business including unique products, unusual marketing and production techniques and "extreme" customer service strategies.
Simplicity Sofas specializes in Furniture for Small Spaces and Tight Places. It produces custom-built modular sofas that ship flat in boxes and can be assembled in 15 minutes without tools. The company even has a video showing a sofa being assembled in less than 4 minutes by an 8 year old.
All sofas, sleepers and sectionals are designed to fit through doors and stairways as narrow as 15 inches, less than half the size of a normal doorway. All furniture is custom-made by hand one-piece-at-a-time. Any one of more than 1 million different product variations can be hand-built in 30 days or less and shipped nationwide.
Mr. Frank began his career in the furniture industry in 1976 as a salesman in a discount department store. In subsequent years he worked as a furniture store buyer, sales manager and government contract consultant to furniture manufacturers.
Over the past 20 years Mr. Frank has been engaged primarily in inventing and producing new types of ready to assemble modular upholstered furniture. He has been awarded 5 patents in partnership with co-inventor Glenn Laughlin, a custom upholsterer and prototype builder. Glenn has lived in the High Point, NC area his entire life.