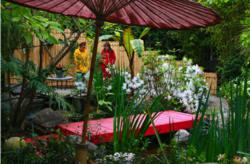 Despite what some people might think, 'spiritual L.A.' is not an oxymoron.
Los Angeles, California (PRWEB) January 29, 2013
Spirit Quest Tours has launched a new tour offering called "Spiritual LA," which allows tourists from all over the world the chance to experience some of the most serene and spiritual locations in Los Angeles.
The 3-day/2-night and 4-day/3-night tour packages are personalized based on the travelers' desires to reduce stress, explore new growth opportunities, or experience nature. Spirit Quest co-owner Halle Eavelyn says the tours are designed around the goal of refreshing the mind, body and spirit.
"Despite what some people might think, 'spiritual LA' is not an oxymoron," Eavelyn says.
"Certainly Los Angeles is well known for the glitz and glamour of Hollywood, and it has a reputation as being a shallow city, but Los Angeles has a deep spiritual core. The goal of these tours is to highlight some of the incredible natural wonders and spiritual centersof Los Angeles that are available to visitors and residents alike," Eavelyn says. "There's a reason why this is called the City of Angels."
The Spiritual LA tours are customized for each group of two or more guests from a pre-screened menu of options. Spirit Quest Tours' owners are intimately familiar with Los Angeles, and they can identify and recommend the right mix of activities based on the goals of the guests.
"This is a five star trip, so it begins with a limo and driver service from LAX to take visitors to their hotel, and the car is available all weekend. For hotels, we love both Shutters and Casa del Mar in Santa Monica, which are peaceful, stunning locations ideal for guests who want to be at the beach for inspiring sunsets, long walks, or yoga in the sand. Other travelers are inspired by art, so we also offer the choice of staying at the Luxe Sunset near the Getty Museum. It's a hotel that offers tranquil, plush accommodations and lots of pampering. It's perfect for an in-room massage or a quiet, romantic dinner," Eavelyn says.
One of the special destinations that can be included on the Spiritual LA tours is the Peace Awareness Labyrinth and Gardens at the Movement of Spiritual Inner Awareness (MSIA), which teaches soul transcendence and practical spirituality.
"This is literally a spiritual oasis in the middle of one of America's largest cities," Eavelyn says, adding that MSIA has a recorded meditation available for use while walking the labyrinth. The meditation garden, surrounded by exotic Asian plants, koi ponds and quiet contemplation spots gives way to a labyrinth modeled after the one at Chartres Cathedral in Paris.
Eavelyn says hikes in canyons and the Hollywood Hills are also popular activities. Tourists also love Griffith Park, with its famous Observatory, the Hollywood sign, and numerous hiking trails.
"Some people want spa treatments or guided meditations. Others want to visit Yogananda's Self Realization Fellowship Lake Shrine, complete with its windmill and Gandhi's ashes, or do yoga on the beach. We also can arrange for a personal Spirit Session with a channel guide. We have options that fit every need of our guests who are on a spiritual journey," she says.
Trip organizers at Spirit Quest also say that part of enhancing the body, mind and spirit involves nourishing the tummy, which is why they've scouted out the best in vegetarian cooking and health food in the L.A. area.
"Some of our favorite gastronomical destinations include the Inn of the Seventh Ray in Topanga, as well as Little Door and Little Next Door, which offer delicious food presented beautifully in a delightful atmosphere. L.A. is one of the best locations in the world for incredible vegetarian and healthy cuisine," Eavelyn says. "We've discovered the best raw food locales, organic sushi, and even a wonderful restaurant where each menu name is an affirmation."
Spirit Quest Tours personalizes the trips for travelers to create the ideal girl's get-away, romantic couples retreat, or gathering of friends. Tours can be fully escorted or self-guided.
"Our goal is to help people get away for a weekend of special and unique activities that leaves them refreshed and returns them home in a way that shifts them. That may involve guided journaling or meditation. It could be a weekend of hiking through the beautiful LA canyons or relaxing with spa treatments. Most people choose to do these trips when they need to escape to or from something. Our goal is to help them find their way," she says.
Fully custom Spiritual LA. trips start at $500 per day, excluding airfare. For more information, call Spirit Quest Tours at 877 406 5206 or visit http://www.spiritquesttours.com.