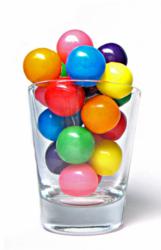 Cologne, Germany (PRWEB) January 28, 2013
TIC Gums will introduce "TicaPAN Quick Crunch" to the European confection industry during "ProSweets Cologne 2013." The tradeshow occurs January 27, 2013 through January 30, 2013, in the Koelnmesse GmbH, Messeplatz 1, Cologne, Germany. The TIC Gums booth is in Hall 10.1, aisle D, stand number 038.
Better than Gum Arabic for Panned Confections
As an alternative to the traditionally used gum arabic, TicaPAN Quick Crunch produces harder, more durable and crunchier shells for coated chewing gum, candy, nuts and other panned confections. TicaPAN Quick Crunch also offers significant cost savings when compared to gum arabic. Patent pending TicaPAN Quick Crunch is the latest addition to the TicaPAN family of coating systems.
How TicaPAN Quick Crunch Matches Gum Arabic Product Quality While Substantially Lowering Overall Costs
Fewer shell layers without any loss of strength is the way, as significant cost in use savings result because fewer panned layers are needed. By reducing the overall shell thickness and maintaining product quality with TicaPAN Quick Crunch, manufacturers can reduce the number of layers (shell thickness) by as much as 10%. This in turn reduces manufacturing time and the total amount of raw materials needed in the coating formulation. While TicaPAN Quick Crunch comprises only 1-3% of the entire formulation, sugar and sugar alcohols constitute 60-75% of the shell. Reducing these ingredient amounts yields significant savings. The larger the batch, the more money saved.
The Need for TicaPAN
The TicaPAN Coating System was developed to provide a solution for the sometimes unstable gum arabic market. While very functional and useful, gum arabic is one of the most difficult gums to source in the world. It is often subject to volatile pricing due to political instability and unfavorable weather conditions.
The TicaPAN Coating System is an innovative solution for binding and strengthening the sugar and sugar alcohol shells in panned confections. This line also works well enrobing nuts, malt balls, chocolate candies and other products with oil containing centers.
About TIC Gums
TIC Gums is a global leader in advanced texture and stabilization solutions for the food industry. Food and beverage companies rely on TIC Gums to improve the texture, stability, consistency, nutritional profile, and shelf appeal of their products. Legendary customer service, high quality standards, and the unrivaled knowledge of our Gum Gurus® have made TIC Gums the industry leader for more than 100 years.