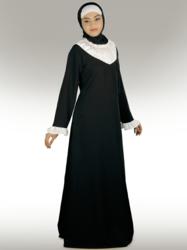 Any Size, Any Length; We Customize for YOU.
(PRWEB) January 27, 2013
Many decades of experience in the field of manufacturing has helped MyBatua.com to become the leading provider of Islamic clothing, handbags and ethic fashions in the fashion industry. The clothing is offered keeping in mind the need and the taste of the Muslim women and girl. The company has gained huge significance in the fashion industry because of its innovative designs in traditional Muslim clothing. The company strives for great value to customers and has delivered solutions based on the latest trends and fashion.
MyBatua.com offers new collection of Abaya, Jilbab and Tunics to buyers that are beautifully designed and crafted along with the embroidery. The company gives the opportunity to customize the outfit and make selections based on individual taste. The company takes the pleasure of providing the personal preferences and the requirements based on the outfit being manufactured. MyBatua.com can reduce or increase the length as per the requirements.
The Muslim dresses are available in varieties of design and style. The buyers can try the trendy Jilbabs that have bold colors like burgundy, green, pink, lilac and others, along with the ruffles on the neckline and the sleeves. There are different shades, textures and fabrics available that gives the chance to make the selection depending on the taste. The trend of the Jilbabs has also changed; there are darker and vibrant colors available with the change in designs.
If one prefers to choose a different design, then the online store also gives the scope to select from various designs that has pleats on the side, front and on the bodice. The Islamic clothing is also now available in warm color patterns and buyers can choose the contemporary style patterns. There are flared sleeves and pleats on the base that makes the garment more attractive and stylish. There are some light thread works in the clothing along with the embroidery to give an elegant look to the robe.
MyBatua.com has become an online one stop shop for Islamic clothing in a short period of time. Positive feedback from the customers keeps encouraging to provide better service to its customers every day. So is the store's motto to keep the interest of customers on top priority.