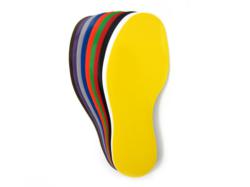 "We have saved a lot of time and money by using footprints to guide our visitors through our museum. We love it!"
Lake Oswego, OR (PRWEB) January 31, 2013
Public facilities such as museums, art galleries, and entertainment arenas are subject to thousands of people visiting everyday of the week. Many are new visitors or customers that are not familiar with the layout of the facility and get confused as to where the ticket counter is located, restrooms, food vendors, and other parts of a building. Facilityfloormarking.com is now offering SafetyTac 5S Footprints as an ideal solution to mark walkways and help guide pedestrian traffic flow through facilities.
No matter what foreign country a visitor may be from, everyone understands what footprints identify and therefore, a facility does not have to spend extra money for signs that would require text in different languages. Extra money would not have to be spent on hiring and training tour guides to show visitors around. The footprints are the most affordable way to direct traffic flow through any type of facility. An employee for an art museum commented, "We have saved a lot of time and money by using footprints to guide our visitors through our museum. We love it!"
The footprints come in a pack of 25 and are available in ten color choices making it easy to contrast footprint color to floor color. The footprints are made out of tough, durable material with a strong adhesive that will stick to almost any floor and are scratch, smear, and scuff resistant. Because they are so durable, they will last a long time even under the harshest foot traffic. The installation is simple with the easy peel-n-stick application and not time consuming like painting floor markings that require shutting down the area due to fumes, dry and cure time that paint requires.
For more information about SaftyTac 5S Footprints, please visit http://www.facilityfloormarking.com/ or call toll-free (888)246-6770 to speak with a professional representative.