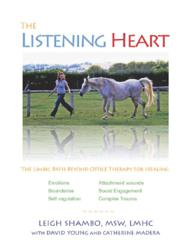 We write this book to therapists who want their clients to connect from a place of wholeness.--David Young, co-author
Chehalis, WA (PRWEB) January 31, 2013
Leigh Shambo has been described as part professional therapist, part horse whisperer. Local acquaintances know her as "the horse lady," who attracts students from across the world to her ranch in Chehalis, WA, to learn about equine-facilitated psychotherapy. Shambo has the unique perspective of being a former horse trainer and riding instructor now working as a licensed mental health counselor. The Listening Heart explores how the human-horse bond can help heal Post Traumatic Stress Disorder and related mood and anxiety disorders. Her work includes the role horses played in her own healing after serious injury and the loss of her mother to suicide.
Using a model for equine facilitated psychotherapy that integrates neuroscience, attachment psychology and animal science, Shambo's book--available for purchase from Amazon on February 1--is a valuable contribution to the growing field of equine facilitated psychotherapy. Case vignettes and outcome studies illustrate the book's thesis that horses are uniquely effective therapy animals, when the therapy is organized in accordance with the plan for clinical therapy or counseling. The Listening Heart is intended for clinical therapists and others with interest in animal-assisted therapies and can be used as a handbook for practitioners. It will also be of interest to any person who believes in the value of animal companions.
"The horse is more than a mirror. They are an active, empathizing participant that itself seeks safe structure and mammal-to-mammal emotional regulation. The horse is a non-threatening presence, looking for the healthy part of the person," says Shambo.
Equine-Facilitated Psychotherapy is a growing field, at the forefront of the movement for animal assisted therapies. The Listening Heart presents scientific research supporting this powerful modality as a valid form of therapy for a variety of client concerns. More information is available from the non-profit Human-Equine Alliances for Learning (HEAL), http://www.humanequinealliance.org, publishers of The Listening Heart.
More information about co-authors David Young and Catherine Madera can be found on their websites http://www.hrvresearch.com and http://www.catherinemadera.com.