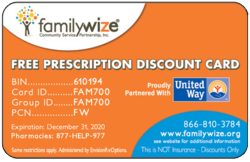 It is very gratifying now to extend and formalize our relationship with United Way Worldwide.
Bethlehem, PA (PRWEB) January 30, 2013
United Way Worldwide, the largest privately-funded nonprofit organization, and the FamilyWize Community Service Partnership, the nation's leading provider of free prescription drug discount cards, today announced a new collaboration to help people who cannot afford the medicine they need.
The partnership builds upon the extensive experience more than 1,000 community-based United Way chapters have had with FamilyWize over the past seven years, and it impacts two of the three United Way Worldwide priority areas -- Health and Income -- with one free prescription savings card anyone can use.
The two organizations share a common goal of improving access to health care, one of the United Way strategies for "Advancing the Common Good." This new, closer relationship will address one of the greatest challenges for FamilyWize - increasing awareness that free assistance is easily available.
United Way Worldwide selected FamilyWize as a preferred partner after assessing its performance with local United Ways. The FamilyWize business model is unique among providers of such cards - offering both transparency and the lowest possible prices for the cost of prescription medicine. Consumers actually can see the discounted prices at any of the 60,000 participating pharmacies using the same database that pharmacists see. This provides accurate, real-time information and helps consumers get the best possible price.
"Local United Ways chapters have been among our most important partners," said Dan Barnes, FamilyWize CEO and Co-founder, "and it is very gratifying now to extend and formalize our relationship with United Way Worldwide.
"United Way reaches patients in need through partner agencies, community and government relationships," Barnes added. "Workplace campaigns with local employers are often an additional distribution asset since many companies offer cards to employees for themselves, friends or family members who are uninsured. " 
There is much more to do, Barnes said, but the results and impact nationwide are already impressive: 
5 million people helped
5,000 additional people helped each day
$450 million saved on the cost of medications
Savings often are as high as 75% off the price charged without the card, he said, adding that the savings frequently keep families from having to choose between medicine and food, utilities or other necessities.
Use of the card also provides an additional benefit to income stability, Barnes said. A CVS Caremark study shows that taking medicine as prescribed can save as much $7,800 per patient annually, money that otherwise would be spent on emergency rooms, hospitalizations, tests and other procedures.
For more information, to compare the discounted price of prescriptions at nearby pharmacies or to download a free card, visit FamilyWize.org
About FamilyWize
The FamilyWize Community Service Partnership was established in 2005 to help people get the medicine they need. Today, more than 50,000 community agencies, coordinated by nearly 1,000 participating United Ways and America's Promise Alliance Partners in all 50 states coordinate local distribution of the free FamilyWize prescription drug discount cards, which lower the cost of medicine by up to 75%. As of December 2012, the free FamilyWize cards have helped more than five million people save over $450 million. For more information, visit FamilyWize.org/about-us
###