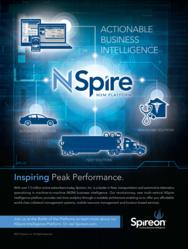 Spireon has invested significantly in building a dedicated private cloud that is horizontally scalable to support a virtually infinite number of mobile assets.
Knoxville, TN (PRWEB) January 28, 2013
Spireon, the leading innovator of M2M (machine-to-machine) Business Intelligence Solutions that connect companies to their mobile assets and workforces, is preparing to go head-to-head with other M2M mavens at the Battle of the Platforms scheduled to take place on January 29 at the 2013 M2M Evolution conference in Miami, FL.
Attended by M2M adopters and innovators across a wide range of industries and markets, this year's M2M Evolution focuses on the role of M2M technologies in applications for enterprise business, healthcare, mobile workforce management, smart home and energy management, mobile healthcare and more. The conference will take place January 29 – February 3 at the Miami Beach Convention Center.
As part of the conference's schedule of events, a select group of companies have been invited to showcase their cutting-edge M2M solutions at a forum called Battle of the Platforms. Each participant will have 15 minutes to present their platform as well as a compelling case for how the platform addresses business challenges while reducing costs and improving efficiencies. Presentations and platforms represent a range of categories and will be judged across multiple criteria.
Spireon is competing in the "Platform for best BI Controls Solutions" category that calls for entrants to demonstrate support for faster, better, and easier business decisions. The presentation team is scheduled to present their case before a panel of judges at 2PM.
"Participating in the Battle of the Platforms at M2M Evolution is an honor for Spireon," says Brad Jarvis, Spireon's Chief Marketing Officer who will be presenting Spireon's platform along with Mike Edwards, VP of Professional Services and Mike Callinan, Director of Software Engineering. "It allows us an ideal opportunity to demonstrate the power of our NSpire M2M platform as a mobile resource management and business intelligence engine for multiple vertical solutions."
The presentation team plans to focus its 15 minutes on Spireon's new NSpire M2M intelligence platform, including its supreme scalability, reliability, performance and security. Spireon currently supports 1.5 million active subscribers across multiple vertical markets and collects over 2 billion events per year.
Explains Mike Edwards, "One of the most unique and compelling attributes of NSpire is that it allows Spireon to leverage core features and functionality of our solution, then easily adapt to create vertically-centered products that meet the specific needs of customers in different vertical markets — whether its enterprise, trucking and transportation, local fleet operators, automotive finance, or healthcare. NSpire is truly the largest multi-vertical M2M intelligence platform out there."
The team will also discuss how Spireon has engineered the NSpire platform from the ground-up to create a supremely elastic, secure and reliable environment for its multi-vertical customers.
"Spireon has invested significantly in building a dedicated private cloud that is horizontally scalable to support a virtually infinite number of mobile assets," says Mike Callinan, "This cloud environment also employs the highest level of security and redundancy protocols and features to ensure our customers have continual, uninterrupted access to their critical business intelligence. And that their sensitive data remains protected at all times."
A core part of Spireon's presentation will also focus on NSpire's interoperability and ease-of-integration with current and emerging third-party applications commonly used by their customers, as well as the ease of adding new features and functionality to meet the evolving needs of their vertical markets. As a case in point, the team intends to highlight Spireon's successful results working in partnership with Coca-Cola Consolidated Bottling Company. CCCBC relies on NSpire to help them manage their large, geographically disperse fleet of trailers.
Announced before the conference's keynote speaker session, Battle of the Platform winners will be featured in a video interview and article on the M2MEvolution.com website, and will receive a press kit including announcements of the award as well as a custom plaque.
"NSpire truly is a game-changing platform that delivers on the promise of M2M for businesses who must manage and maximize their mobile workforce and assets," concludes Jarvis. "We feel confident in our chances of winning the Battle of the Platforms. But primarily, we are grateful to have the opportunity to share our vision and the exciting direction we're taking M2M for our customers and their mobile environments."
To learn more about the 2013 M2M Evolution and to register, visit M2MEvolution.com. For more information about Spireon, visit Spireon.com.
About Spireon
Spireon, Inc., is at the summit of business intelligence and committed to going higher. Headquartered in Knoxville, TN, the company emerged in 2011 as the industry leading Mobile Resource Management (MRM) company as a result of the merger of ProconGPS, Inc. with EnfoTrace and PFS, LLC, the top three providers in the MRM space. Spireon connects companies to their mobile assets and workforce through game changing information platforms, giving them the power to manage actionable business intelligence. Its trusted brands include market share leader GoldStar GPS®, EnfoTrace GPS™, FleetLocate®, VehiclePath™ and LoanPlus CMS™. Inspiring companies to reach new heights with powerful Software-as-a-Service (SaaS) based tools; Spireon provides a sturdy foundation on which to optimize performance.
With leading market positions in the fleet, transportation and automotive telematics markets, Spireon, Inc. specializes in developing strong business relationships with leading companies worldwide, enabling it to offer affordable world-class risk mitigation, mobile resource management and location based services to its customers. NSpire, Spireon's revolutionary, new multi-vertical M2M intelligence platform provides real time analytics, through a scalable architecture and supports over 1.5 million active subscribers today. The NSpire intelligence platform collects rich data from its patented array of GPS products and delivers actionable business intelligence through industry brand for automotive dealers, lender services and delivery fleets, and transportation and logistics customers.
For additional information, please visit Spireon, Inc.'s website http://www.spireon.com.
###
Contact:
Corinna Tutor
949-422-7103
ctutor(at)Spireon(dot)com