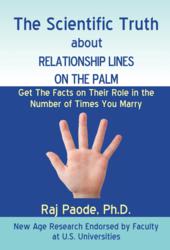 This book will provide individuals with a range of the number of times they will most probably marry.
Gilbert, Arizona (PRWEB) January 30, 2013
Most people believe that the palm lines are irrelevant and palmistry or palm reading don't merit any respect. However, they will be surprised to learn that scientists have shown links of palm creases and fingers, with personality problems, chromosomal abnormalities, and medical disorders. A new investigation by Dr. Paode proves that palm lines can also aid in predicting marital incidence. The book, The Scientific Truth about Relationship Lines on the Palm: Get the Facts on their Role in the Number of Times You Marry, presents a simple version of the study. "Relationship lines impact marital frequency and can provide an estimate of the most probable, and also the maximum number of times an individual can expect to wed," states Paode.
Dr. Paode's research in the new age field has been endorsed by members of the academia. "I am sure that Raj's work will provide readers with a scientific insight into new age subjects," states JoAnn Silverstein, Professor, University of Colorado at Boulder.
"Paode is performing rigorous and unbiased scientific studies," quotes Tom Holsen, Professor, Clarkson University.
"Raj's research is backed by hard science and is convincing to both the scientist and to individuals interested in the new age area," mentions Tom Hess, Professor, University of Idaho.
The book includes information on the location of relationship lines on the palm; the technique for identifying and counting these lines; which palm (left or right) to use for enumerating relationship lines; how to calculate the most probable number of marriages from the lines; and the method for estimating the maximum marriage frequency from the lines.
"Relationship lines on the palm are for real, and can address questions about a person's marital future," concludes Paode. Please visit http://www.drpaode.com for information on ordering the paperback and eBook versions of the book.
About Raj Paode
Dr. Paode has investigated new age fields like palmistry for many years. He has established that some new age claims do pass the scientific test, and can be very helpful. Raj Paode's original background is in the environmental field, and he has previously worked with the Argonne National Laboratory. He has a doctoral degree from the University of Colorado at Boulder, and a bachelor's degree from the Indian Institute of Technology (BHU). His company IPART Publishing is involved in the production of science based new age literature.