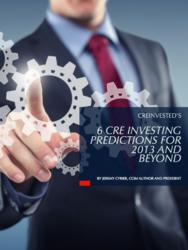 Despite tax hikes in Washington, investors see bright spots in 2013 commercial real estate market.
Wakefield, Massachusetts (PRWEB) January 29, 2013
CreInvestEd releases report entitled "6 Commercial Real Estate Investing Predictions for 2013 and Beyond."
The report's author, Jeremy Cyrier, CCIM, President of CreInvestEd, senior CCIM instructor, investor, and brokerage company owner, has trained some of the country's top real estate professionals from Walmart, McDonald's, Walgreens, CVS, CBRE, and even the U.S. State Department in cities across the United States. He also authored "Start with Finding the Deal" an online course that teaches investors how to invest in commercial real estate today.
Cyrier identified that "Despite increases in the marginal and capital gains tax environment, commercial real estate investors are still eager to earn a return on their investment in 2013 and are looking for where to go."
In the predictions report, Cyrier outlines 6 key elements to watch in the 2013 commercial real estate market. For example, tax changes will lead to more conservative underwriting. The Bush Tax Cuts provided us with a 15% Federal capital gains rate, which is one of the lowest rates since 1987. But, with looming changes in Washington, investors are cautious about how far taxes will go and what the overall impact on property values will be.
Industrial real estate offers some bright spots. A sector that trails GDP growth, U.S. GDP is expected to grow by 1.8% in 2013, and expected to increase to 2.0% from 2013-2018, according to The Conference Board. Yet it's shopping habits, according the report, that will drive industrial demand in 2013, as retailers like Staples invest heavily in e-commerce and shrink their brick and mortar stores to accommodate shopper trends. This will benefit logistics companies like FedEx and UPS, who will need distribution centers and warehouses to move goods from the factory to the consumer's front door, which poses and opportunity for investors.
Overall, Cyrier says that investors are optimistic about the apartment, land, and retail sectors. But he cautions office investors to keep an eye on changes in office trends, because not only do job losses soften demand for office space, but so does the move from companies demanding 225 square feet of office space per employee to 125. A shift that could result in companies shedding more office space, even if they are adding jobs.
For additional information on CreInvestEd's 2013 Predictions Report, contact Jeremy Cyrier or visit http://www.commercialrealestateinvestingeducation.com.
About CreInvestEd
CreInvestEd, the nation's leading trainer on how to invest in commercial real estate, provides free investing tips, real estate coaching and has recently released its latest 10 module online course course entitled "Start with Finding the Deal: How to Build a Steady Flow of Investment Opportunities Fast."