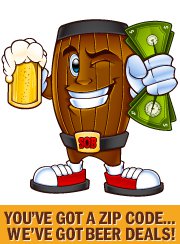 7 million people will call in sick to work on Monday.
Houston, TX (PRWEB) January 31, 2013
The Super Bowl represents one of the largest holidays for beer retailers. SaveOnBrew.com, the world's only beer price search engine, has just released an infographic that shows "the cycle of life" for Super Bowl beer – how it's purchased, consumed and eventually flushed.
Among their findings:

Americans will buy 50 million cases of beer in the weeks leading up to the Super Bowl.
58% of Super Bowl viewers hit the bathroom during the game to avoid missing the commercials.
7 million people will call in sick to work on Monday.
SaveOnBrew users can save over $1 billion using the site before buying beer for the Super Bowl.
This will be the third year SaveOnBrew has released a Super Bowl infographic and provided shoppers with an accurate list of the lowest prices on beer. Beer recommendations are new to this year's infographic.
SaveOnBrew founder Mark Davidson explained, "According to the Brewer's Association, more than one new brewery opens in America every single day. We thought it would be cool to taste beers made in San Francisco and Baltimore while watching their home teams battle it out for football glory."
Data for the infographic comes from Nielsen estimates based solely on at-home alcohol consumption. Americans drink even more beer at bars, restaurants and the stadium. The Beer Institute estimates that in the run-up to game-day, beer consumption represents 3 percent of the annual total.
SaveOnBrew only lists beer that is discounted or on sale to ensure that consumers receive the lowest prices. "We wanted to cut through the clutter and give consumers the essential data. All you need to do is enter your zip code to get a list of beer prices," says Davidson. "Some people use our system to look up retailers selling their favorite brand, while others see which beers are on sale and opt to try something new."
Rather than relying on crowd-sourced data, SaveOnBrew works directly with more than 50,000 retailers nationwide. Their massive database lists 250,000 to 350,000 beer sales and special offers at any given time. "Craft beer can be pricey. We want to help people try as many quality beers as they can, without paying full price."
For further information, one may visit SaveOnBrew.Com or contact the company directly at (713) 412-9057.
# # #
About SaveOnBrew.Com: Founded in 2010 to help thirsty beer drinkers across the United States find the lowest advertised prices for one of the world's most popular beverages