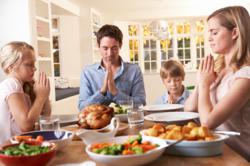 What I've witnessed in group prayer situations is all too often a speech, chastisement, or teaching session directed at the listeners instead of a prayer focused on and to God
Plano, Texas (PRWEB) January 30, 2013
R. Brad White, founder of Changing the Face of Christianity Inc. recently published a report of his growing concerns about bad prayer habits he calls "Christian Prayer Abuse".
Mr. White says, "Prayer is about a relationship with God. It's about staying connected to God. It's about personal confession and asking for God's forgiveness and blessing in your life. Its also about intercession on behalf of others. However, Christians sometimes turn intercession on behalf of others into a selfish attempt to teach other people a lesson in the guise of a group or family prayer."
Family mealtime prayers are a common practice in most Christian homes. Many of those prayers are thoughtful, sincere, and worthy of Gods attention.
However, R. Brad White shares an example of prayer abuse which deviates from the intended purpose of prayer, "You are a parent of little children who have absolutely driven you crazy all day long. They haven't listened to you. They have been disobedient and disrespectful to you and their siblings. And now it's time for family Dinner and the family dinner prayer. It goes something like this: "Dear God, help my children be more respectful. Help them to love one another. Help them to realize that when they treat other people rudely or disrespectfully, they are disobeying you God. God, you command us to love one another, and when we don't do that, we sin. God, please help my kids be more loving. Amen!"
Mr. White continues, "What I've witnessed in group prayer situations is all too often a speech, chastisement, or teaching session directed at the listeners instead of a prayer focused on and to God."
Mr. White gives a recommendation on how to get back on track with Christian prayers, "When we pray, let us pray TO God, and FOR God…not as a way of teaching or disciplining our kids. If you want to say those prayers to help your kids…great. Just do them in private as a conversation between you and God. If you want to teach your kids a lesson, have a conversation with them about the issue you are trying to correct. If you want some effective prayer on the issue, talk with your children and suggest they pray to God about their behavior, ask forgiveness, and ask God to help them."
Changing the Face of Christianity Inc. has published a more thorough commentary on Christian prayer abuse on its website at http://www.changingthefaceofchristianity.com/christian-maturity/do-christians-abuse-prayer.
About Changing the Face of Christianity Inc.
Changing the Face of Christianity Inc is a 501(c)(3) tax exempt non-profit Texas corporation, started in 2010 by Founder and President R. Brad White. Their mission is to reverse negative Christian stereotypes, by helping Christians to be more like Jesus Christ. Changing the Face of Christianity Inc is working to change these negative perceptions by 1) making Christians aware of the negative stereotypes inadvertently created through their words and actions, 2) by educating Christians on the issues and effective ways to change their words and actions to create a positive stereotype in the world, and 3) by assisting Christians with their spiritual growth, maturity, and transformation into Christ-likeness. They are also the producers of the "Christianity Quiz", which helps Christians answer the question, "How Christian Am I?"
About R. Brad White, President and Founder of Changing the Face of Christianity Inc
For over half of his life, Brad was an unshakable Atheist. But after a miraculous sign from God in 2005, he shed his blind disbelief and became a believer. Brad felt called to start "Changing the Face of Christianity" in 2010′. Brad is available for speaking events, interviews, radio segments, opinion pieces, guest blog articles, and commentary on our Christian faith and culture.
# # #