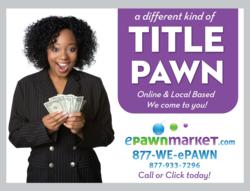 ePawnMarket strives everyday to offer the Max Title Pawn Loan Cash while at the same time offering the Lowest Interest Rates in the industry.
Atlanta, Georgia (PRWEB) January 31, 2013
Online Pawn Shop and Georgia Title Pawn Loan leader ePawnMarket.com continues to make waves in the Georgia Title Pawn Loan industry by offering rates and terms on Atlanta Title Pawn Loans that offer the Most Cash and will save customers thousands of dollars over the life of their Atlanta Title Pawn Loan.
"We decided early on that we wanted to make a difference for our Atlanta Title Pawn Loan customers," states Andy M. Anderson, Director of Processing and Logistics. "By offering a New Deal to Atlanta Title Loan Customers that would lower their high interest Atlanta Title Pawn Loans with Max Title amounts capped at $5000 we felt we could change Atlanta Title Pawn Loan customers lives" Anderson continued.
To this end ePawnMarket has continued to offer the absolute best low interest rate title pawn that can't be matched anywhere in the Georgia Title Pawn Loan industry while at the same time offering the Max Title Pawn Loan amounts found anywhere.
"Many companies in the Atlanta Title Pawn Loan industry cap their Max Title Pawn Loan amounts but don't cap their maximum Title Pawn Loan interest rates and we here at ePawnMarket.com decided to take an entirely different approach"" states Daniel A. Delnoce, Director of Sales and Marketing.
"We felt by offering the most Fast Cash and the lowest Atlanta Title Pawn Loan interest rates that are oftentimes half than the other guys along with a safe, secure, and convenient way to switch your current Atlanta Title Pawn Loan provider to ePawnMarket.com we will help Atlanta Title Pawn customers put more cash in their pocket and Get Their Title Back," Delnoce continued.
We CARE – We are ePawnMarket.com
About ePawnMarket.com and its Georgia Title Pawn Loan Division
ePawnMarket.com is one of the world's largest Online Pawn Shops. Online Pawn Shop customers can secure traditional pawn loans using luxury items of value that they already own as collateral that can be shipped via Federal Express. U.S. Residents may use luxury watches, jewelry, handbags, gold, silver, precious metals, collectibles, and digital SLR cameras as collateral to obtain fast cash safely and discretely from the comfort of their own home. ePawnMarket.com also offers free shipping and insurance on all items you buy, pawn, or sell. By offering our "best deal guarantee" customers can rest assured they will receive the ability to obtain fast cash without credit checks or the hassle of cumbersome paperwork due to bad credit. Can't ship your item? That's no problem! We have partnered with hundreds of local pawn shops around the country to offer you fair and honest rates and terms that benefit both the consumer and local pawnbroker.
ePawnMarket.com's Georgia Title Pawn Loan division is one of Georgia's largest and fastest growing Title Pawn Rescue Lenders. By offering customers a new deal and a way out of their current Georgia Title Pawn Trap ePawnMarket.com has placed itself in a position to be an industry leader in not only Online Pawn Shops but Title Pawn Rescue as well. ePawnMarket offers Georgia title pawn loans on cars, trucks, motorcycles, boats, trailers, recreational vehicles and heavy equipment. By offering the Lowest Interest Rates and the Most Cash ePawnMarket.com allows consumers to use their Car as their Credit in order to obtain Fast Cash for their Georgia Title Pawn Loans. With ePawnMarket.com your car title is your credit, your car title is your cash, and your car title is your freedom. By guaranteeing the Lowest Interest Rates and Payments you will get your title back with ePawnMarket.com