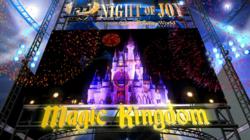 (PRWEB) January 27, 2013
Mark your calendar as Trinity Broadcasting Network, America's most-watched faith channel, airs the 30th year celebration of the stellar Christian music festival "Night of Joy" at Florida's Walt Disney World Resort. This memorable event, which over the years has featured some of the most impacting singers and recording artists in contemporary Christian music, airs Wednesday January 30 at 7 p.m. Pacific Time (9 p.m. Central, 10 p.m. Eastern) and Thursday January 31 at 2 p.m. Pacific Time (4 p.m. Central, 5 p.m. Eastern).
"Since its beginnings in 1983, 'Night of Joy' at Walt Disney World Resort has gained a well-deserved reputation as a top-tier venue for some of the best artists in contemporary Christian music," said TBN Vice President Matthew Crouch. "We were thrilled to be there to cover the music, get some exclusive interviews with the featured artists, and bring our viewers all the excitement of this memorable 30th year 'Night of Joy' celebration."
The "Night of Joy" broadcast on TBN will feature exciting performances and behind-the-scenes segments from popular groups and artists Third Day, Mercy Me, Francesca Battistelli, and Chris August.
"Our coverage of this one-of-a-kind event is a great example of the commitment TBN and its family of networks have to provide viewers with the very best in music, ministry, and Christian programming 24 hours a day," said Mr. Crouch. "That commitment reaches back 40 years to TBN's founding, and is why we continue to be the go-to source around the world for faith and family television."
To find out more about the Trinity Broadcasting Family of Networks visit http://www.tbn.org.