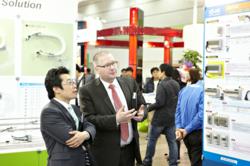 Seoul (PRWEB) January 28, 2013
Presenting global buyers and exhibitors with unparalleled opportunity for business in one of the largest and most advanced automation markets in the world since its launch in 1990, Automation World has become the premier venue for representatives from every sector of the factory automation industry to meet and forge crucial business relationships with partners from Korea and abroad. This year, Automation World will be held from March 13-16 at Coex, Seoul.
Automation World welcomed more than 24,000 visitors in April 2012, marking a 30 percent increase in attendance from the previous year's show, while featuring almost 300 overseas buyers from more than 40 countries around the world. The 2012 exhibition also included hundreds of exhibitors from 23 countries, with more than 60 percent of the brands hosting booths at the show coming from multinational firms. Automation World 2013, with its brand-new additional concurrent event Packaging World, is expected to build on this success. Packaging World is the only packaging exhibition in Seoul, Korea, which provides the great opportunity to promote exhibitor's product for every level or buyers - from producers to end-users. Therefore, the buyers and visitors may experience the whole process of automation factory, from components to the packaging machines, by visiting Automation World.
South Korea's automation industry is valued at more than $15 billion, making it the 8th largest automation market in the world. The opportunity to meet local Korean buyers is consistently ranked as the number one reason hundreds of companies from around the world choose to exhibit their products at Automation World every year. Furthermore, with exhibitors featuring products ranging from motors, conveyors, hoists, belts, compressors, control valves, and electric pumps, to sensors, measuring instruments, converters, touch panels, barcode scanners, industrial cameras, lenses, and lasers, Automation World 2013 will provide access to practically every sector of the global factory automation industry.
In addition to the to sub-exhibitions specializing in machine vision and building automation, Automation World 2013 will highlight firms from other emerging subsectors within the automation industry. Last year's show saw invitees from companies specializing in "smart" industrial communication networks, energy-saving technology, and safety and security technology, and Automation World 2013 plans to reach out once again to firms in similar up-and-coming automation sectors. This emerging-industry focus, combined with the vendor seminars, international conferences, export consultation meetings, and various networking events featured at every Automation World exhibition, will ensure that Automation World 2013 will continue to serve as Asia's leading, cutting-edge automation trade show.
Overseas buyers attending Automation World 2013 will also have the opportunity to participate in a business-matching program featuring one-on-one meetings with Korean exhibitors that are designed to facilitate the full exploration of all products on offer at the show that are relevant to particular buyers. Nearly 100 business meetings between overseas buyers and domestic exhibitors were held at Automation 2012, during which contracts totaling an estimated $29.4 million in business deals were arranged, and this year's business-matching program is expected to generate similarly successful results.
All of this and more will take place at Automation World 2013 at Coex Convention and Exhibition Center; a world-class venue in the heart of downtown Seoul. Don't miss your chance to join tens of thousands of buyers, sellers, and visitors from around the globe from March 13th-16th, 2013, and experience the best of what the global automation industry has to offer at Automation World 2013.
Coex, Global Business Unit
Lynn Kwak
82.2.6000.8160
lynn(dot)kwak(at)coex(dot)co(dot)kr