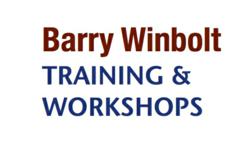 It's easier to pay attention for a shorter period, and much more likely that people will remember what they have heard.
Brighton, East Sussex (PRWEB UK) 30 January 2013
Barry Winbolt provides staff development training to the public and private sectors. For 20 years he has focused on helping employees improve the quality of their working lives, and their personal productivity.
He understands the core ingredients to keep people engaged and interested and has built an enviable reputation for doing so; attendees consistently report a satisfaction rating of 93%.
But these are pressured times for employers. Budgets are tight, staff numbers are down and the constant message is 'do more with less'. Though most are rising to this challenge, it is putting extra pressure on staff, and this presents a new dilemma. While the increased demand means staff could really benefit from training in topics to help them in their work – Coping with Stress or Time Management for example – there is less money and time available for training.
Known for his innovation, Winbolt saw that this necessity also provided an opportunity: "Much training is past its sell-by date" he says. "Staff have become inured to training. Everybody knows about 'death by PowerPoint' and frankly they often see training as a real turn-off."
The answer to both the employers' dilemma and the lack of staff interest is to 'do more with less', just as managers are being expected to do. Training sessions are now delivered in 60 minute slots, focused on delivering less information but highly engaging and relevant to the staff being trained. Web-based training is the natural choice for doing this. Not only is it accessible, it involves no travel and the content can be put into effect immediately.
"As long as it is pitched right staff are more willing to engage and make use of what they learn", says Winbolt. "It's easier to pay attention for a shorter period, and much more likely that people will remember what they have heard." Attendees are invited to leave comments following each event to ensure that both content and format are relevant:
"As I was actually sitting at my desk during the training, as soon as it was over I was able apply some of the ideas while they were fresh", said Jason, a call centre supervisor.
A Webinar is fully interactive so while watching the presentation on screen and hearing the lecture, attendees can ask questions and enter into discussion with the presenter. Sessions typically last 60 minutes, and supported by course notes, downloads and reading just like more conventional training. Having presented webinars since 2010, Barry Winbolt has now launched his new Webinar titles for 2013.
About Barry Winbolt.
BARRY WINBOLT MSc. is a trainer, consultant and writer. He has worked in many cultures, and many types of organisations in both public and private sectors. He works with individuals, teams and larger groups to develop new ways of approaching persistent problems. As a presenter he is known for his engaging, dynamic and approachable style, and his ability to deliver a serious message in an accessible way.