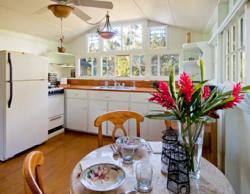 Vacation rentals will become an even bigger player in the hospitality industry over the next five year
Kapaa, Kauai, Hawaii (PRWEB) January 29, 2013
Vacation rentals are poised to take on hotels in coming years. According to studies by the Vacation Rental Managers Association, vacation rental bookings increased more than 30 percent between August 2011 and August 2012. The hotel industry, by contrast, saw three percent growth in 2012, according to the Hotel Industry Pulse Indicator.
Paul Juma, who owns Fern Grotto Inn, a group of six vacation rental cottages in Kauai, saw his business increase by 20 percent in the second half of 2012, and he believes his success is reflective of a larger trend in the hospitality industry. "As vacation home owners become more savvy about the Internet, it's giving them access to a wider audience than ever before, including travelers who might ordinarily stay in a hotel," says Juma.
Juma explains that for the first 7 years he owned Fern Grotto Inn, he relied almost exclusively on listing sites, with the occasional traveler finding him through Fern Grotto Inn's website. However, in the summer of 2012, Juma gave his website a design makeover and hired a professional copywriter and photographer to develop his content.
Since that time, Juma's website traffic has increased substantially, and he's now receiving twice as many inquiries as he was six months ago. In addition, Juma was able to raise his rates by ten percent and still increase his bookings by 20 percent.
"I think vacation rentals will become an even bigger player in the hospitality industry over the next five years," predicts Juma, "People like the privacy and independence of vacation rentals, and rentals provide exceptional value for your money. A family of six can rent a full house on my property for as little as $270 per night. You can't do better than that with a traditional hotel."
Fern Grotto Inn, based in Kapaa, Island of Kauai, Hawaii, has six vacation rental cottages on the east side of Kauai. Fern Grotto Inn prides itself on providing luxury accommodations for guests who want an authentic Kauai experience.