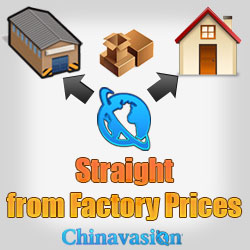 More people have replaced laptops with the best Android tablets and are asking for more from their tablets as a result.
(PRWEB) January 30, 2013
ANDROID tablet power users looking for a powerfully fast tablet that doesn't cost the earth should look toward China according to China Wholesale company Chinavasion. The Android tablet specialist has just released the Quad Core Android 4.0 Tablet PC "Quadlet" tablet a device with a quad core 1.4GHz processor, 4.0 android operating system and 2GB of RAM.
According to Chinavasion PR Manager Rose Li there is only one device on the market now that has the same power and speed.
"For a similar performance you would need to look at branded tablets which at least twice the price of the Quadlet," says Li. "There can be no comparison when it comes to value for money."
Li says these specifications are increasingly coveted by those using tablets for business and who need more power than they do at home.
"More people have replaced laptops with tablets and are asking for more from their tablets as a result," says Li. "A tablet with 1GB RAM simply isn't up to the challenges thrown at it by the modern professional."
The RAM or Random Access Memory determines how quickly computers processes information.
A tablet will be able to do more tasks faster if it has more RAM but Li says most commercially available tablets only have one RAM to handle processing power.
"With just one RAM tablets are never going to be able to handle multiple applications fast enough," says Li. "It's not like a laptop or desktop where adding extra RAM is a fairly straightforward process."
With 2GB of RAM and a 1.4GHz quad core processor Li says the Quadlet can handle more than five applications at one time.
"We've really put the Quadlet through its paces," says Li. "Nothing should have stood up to what we threw at it and there was no freezing or lag."
Resource Box: Rose Li is the PR manager for Chinavasion. With over five years experience and more than 350,000 customers in 120 countries Chinavasion is a global leader in marketing unbranded Android Tablets and Mobile Phones to international buyers. For more information, Chinavasion's storefront is located at: http://www.chinavasion.com