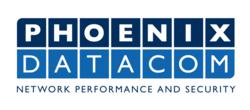 Aylesbury, Buckinghamshire, UK. (PRWEB UK) 30 January 2013
Phoenix Datacom Ltd, the UK's leading provider of solutions to enhance the performance and security of networks and applications, has augmented its cyber security protection and testing capabilities with the addition of Information Risk & Security Performance Management to its portfolio of security solutions.
Partnering with leading Information Risk & Security Performance Management vendor nCircle Network Security, Phoenix Datacom Limited has responded to a growing demand seen from customers wishing to profile all of their network assets in order to prioritise security risks to their networks and quickly take appropriate action.
The addition and support of nCircle Network Security solutions to the Phoenix Datacom security portfolio allows ICT professionals based in the UK to quickly assess the security compliance of their network, identify and prioritise actions for achieving their required compliance, and measure the overall effectiveness of the security programs they have in place. For maximum flexibility and value, nCircle solutions can be deployed at the customer's premises, as a cloud-based service, or in combination.
"Many of our customers, particularly those embracing the growing trend of BYOD, and those for whom compliance forms an integral part of their security strategy are demonstrating a pressing need to improve their Information Risk & Security Performance Management capabilities." said John Carson, Managing Director at Phoenix Datacom. "This trend was also reflected in the results of our recent Security questionnaire with which 96 of our customers took part. We have responded by partnering with who we believe to be the No.1 provider for Information Risk & Security Performance Management, and in nCircle we have a multi award-winning strategic partner that is relied upon by Governments, Enterprises, Financial Organisations and Telecommunications Carriers throughout the world."
About Phoenix Datacom
Founded in 1984, Phoenix Datacom Limited is the UK's leading provider of solutions to enhance the security, performance and availability of networks and applications.
Phoenix Datacom has long-standing relationships with specialist manufacturers for solutions used at every stage of IT from development to deployment and ongoing maintenance. Customers include major organisations across Network Equipment Manufacturers, Fixed and Mobile Carriers and Broadcast, Enterprise Network Owners in Private and Public Sectors and Defence.
Press contact
Richard Clothier
Marketing Manager
Phoenix Datacom Ltd
Tel: (01296) 397 711
Email: richard.clothier (at) phoenixdatacom (dot) com
Web site: http://www.phoenixdatacom.com
About nCircle Network Security
nCircle is the leading provider of information risk and security performance management solutions to more than 6,500 businesses and government agencies worldwide. nCircle solutions enable enterprises of all sizes to automate compliance & reduce risk, and measure & compare the performance of their IT security program with their own goals and those of their industry peers'.
nCircle has won numerous awards for growth, innovation, customer satisfaction and technology leadership and has been ranked among the top 100 best places to work in the San Francisco Bay Area. nCircle is headquartered in San Francisco, CA, with regional offices throughout the United States.
nCircle is a registered trademark of nCircle Network Security, Inc.