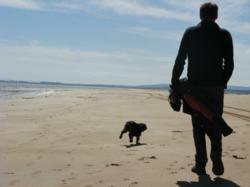 If dog owners find a place where they are welcome they are likely to return. We Welcome Dogs aims to make Scotland more dog friendly and you can access it when you are out and about via your smart phone or tablet
Edinburgh (PRWEB) January 30, 2013
Brand New Guide to Scotland's Dog Friendly Businesses
Scotland has an increasing amount of businesses that are becoming dog friendly and are now waking up to this burgeoning market. We Welcome Dogs is the brand new guide that provides Scotland's dog owners with information on the places that welcome dogs, from hotel and cottages, to pubs and cafes, doggy day care, vets and shops. The website and app (for android as well as iPhone and iPad) launched in October 2012 and was awarded a Scottish Enterprise Tourism Innovation Award in 2012.
Grant MacKenzie, the founder and owner of We Welcome Dogs came up with the idea for the business having travelled the world and recognised that dogs are allowed in a lot more places in other countries than they are in Britain. From a Cavalier King Charles spaniel in a high end department store in Paris through to a terrier in a Buenos Aires butcher dogs were allowed in a lot more places than in Scotland. Thus Grant came up with the idea for the We Welcome Dogs guide that promotes dog friendly Scottish businesses. The aim of the guide is to encourage others Scottish businesses to be more dog friendly. The guide now has over 1600 businesses and 500 walks throughout Scotland with more being added all the time.
There is a growing demand for dog friendly businesses. The market for dog tourism has grown significantly in recent years, in part due to the significant growth in staycations throughout the UK. Correspondingly, more people are looking to take their dogs with them when they holiday in Scotland. According to the World Tourism Markets Global Trends report, the pet tourism sector was projected to grow 6% year on year. The guide also lets dog owners know about their local dog friendly businesses near them such as vets, dog walkers, day care and grooming.
Grant said 'In the current tough economic climate I am keen to promote businesses that would welcome an opportunity to open up to a new and prosperous market, that of dogs and their owners. If dog owners find a place where they are welcome they are likely to return. We Welcome Dogs aims to make Scotland more dog friendly and as you can access it when you are out and about via your smart phone or tablet, it a great resource. Now dog owners can share their favourite places with everyone and so really make Scotland a dog friendly country and help support Scottish businesses at the same time'.
Notes to Editors
We Welcome Dogs was launched in September 2012 and is Scotland's first dog friendly on-line guide. Based in Edinburgh, the business is a Scottish based start-up. Grant MacKenzie has worked in the Scottish tourist industry and is originally from the Scottish Highlands and is a dog owner and dog lover.
28th January 2013. Ends