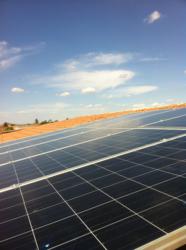 The PV solar products delivered in Brazil show PROINSO's commitment to PV solar energy sectors with big growth potential in the medium term.
(PRWEB) January 29, 2013
PROINSO, global leader in the provision of PV solar products, has supplied 100kW in modules and inverters in Brazil. They were installed in the first self-consumption PV solar plants under net metering, in Fortaleza and other locations in the northeast. The products were delivered with the cooperation of ENER, one of PROINSO's official dealers in South America, particularly in Brazil.
End-users of the sites PROINSO has supplied PV solar products to will benefit from the new regulations adopted by the União Federal regulatory body, ANEEL, affecting electricity distribution companies as of January 2013.
These regulations establish that end-users can register as energy producers and use the power generated by their PV solar installations under the net metering system. Utilities must approve the PV facility owner's' application for connection to the grid and replace the existing electric meter with a two-way meter. The net meter measures the energy that is generated and the unused energy that goes back into the power grid. The customer receives credit for such unused energy at the regular rate for the time of day when the energy is produced. Unused energy earns net metering credit that is valid for a 12-month period.
The PV solar products delivered in Brazil show PROINSO's commitment to PV solar energy sectors with big growth potential in the medium term.
As announced last year, PROINSO will continue to expand in South America over the next months. In line with this, it is working to reach agreements with local companies in Colombia, Mexico, Argentina, Chile, Peru and Uruguay, countries where there already are members of its International Network of Qualified Installers.
In South America, PROINSO has over 29 dealers who sell the multinational firm's more than 500 products from 32 leading brands, as published in the PROINSO SOLAR CATALOGUE. Brands include TRINA, CANADIAN SOLAR, JINKO Solar and YINGLI Solar for modules, SMA, ENECSYS, SIEMENS and INGETEAM for inverters, and TROJAN and DECA for batteries. In addition, PROINSO supplies trackers, foundation screws and fixed structures from MECASOLAR.
To date, the company has delivered more than 1,115MW around the world, which turns it into a global leader in the sector. Its International Network of Qualified Installers, currently comprising 2,272 members, has played a key role in this achievement.
ABOUT PROINSO, http://www.proinso.net
An OPDE Group subsidiary, PROINSO specialises in the supply of PV modules, solar kits, inverters, structures and solar trackers, solar solutions for urban applications in public areas, vehicle recharging stations, self-consumption installations, stand-alone PV power systems and monitoring systems.
With international markets accounting for 88% sales, PROINSO has offices in Spain, Germany, Greece, Italy, USA, Great Britain, France, Canada, China, the Czech Republic, Australia, India and Thailand.