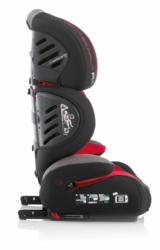 QR codes on car seats are a clever way to ensure that parents are properly informed
(PRWEB UK) 29 January 2013
Jané baby products have just announced that they are now using QR codes on all car seats to tackle the problem of parents fitting them incorrectly.
According to the Royal Society for the Prevention of Accidents, 70 per cent of child car restraints are fitted incorrectly, putting a large number of young children at risk. But now Jané is selling car seats with clever interactive barcodes, known as QR codes, to tackle this alarming problem.
Jané was the first brand in the UK nursery sector to embrace this innovative technology. When scanned with a Smart Phone these codes, which are positioned on the side of the seat, reveal a video fitting guide along with extra information about the seat.
David McCullough, spokesperson for Jané, explains why he thinks these QR codes are so important. "There is no doubt that many people find fitting a car seat daunting. These codes are a real step-change in educating the public about using car seats correctly and could save babies and young children's lives."
Which? child car seat expert Dave Evans has said that most parents struggle when it comes to fitting child car seats correctly. He said: "In our investigation into Child Car Seat Retailer Advice, we found staff in almost half the stores we visited didn't know how to install child car seats correctly. So offering people the chance to watch a fitting video on their smart phone, wherever they are, must be a positive step forward."
And Dad-to-be Johnny Ashworth, who is planning a European trip in VW camper van with his wife and new baby, was also impressed with the QR codes on Jané products.He said: "I was looking for a car seat that would offer maximum comfort and safety. When I was researching which brand to buy I was impressed with Jané's innovative design and safety features.
"There is no doubt that QR codes on products such as car seats are a clever and simple way to ensure that parents are properly informed about how to use the product correctly."
For more information please contact Fiona McMullan Tel: 028 9084 9045 or email fiona (at) johnstonprams (dot) co (dot) uk