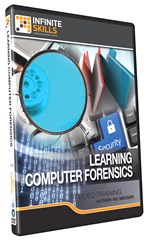 Learn Computer Forensics at Your Own Pace
(PRWEB) January 30, 2013
Software training firm InfiniteSkills Inc. introduces its "Learning Computer Forensics Training Video," a training course designed for students and professionals as a broad introduction to the growing field of computer forensics.
Computer forensics is a branch of digital forensic science that focuses on evidence found in computers and other digital storage sites. Computer forensics seeks to analyze digital content in accordance with the fundamentals of forensic science in order to establish legally credible facts and opinions about the information.
With a growing relevance to many types of criminal activity, computer forensics typically relates to issues of fraud, computer hacking, and illegal content. Forensic investigations are involved in data recovery and attempt to establish a legal audit trail.
InfiniteSkills Learning Computer Forensics Training Video covers key areas in the fundamentals of computer forensics, providing a broad understanding of the field, its intersection with legal situations, and covering some basic forensic recovery procedures.
Course author Ric Messier has been an IT professional for nearly 30 years. With a primary focus in network security, he has performed numerous forensic investigations for corporations and law enforcement agencies. He is a Certified Information Systems Security Professional and a Certified Ethical Hacker, and currently teaches on the college level at Champlain and Brandeis Universities.
In Learning Computer Forensics Video Tutorial, Messier begins by painting a vivid picture of the intersection between law and digital information, covering topics such as chain of custody, evidence acquisition, data validation, and ethics for experts testifying in legal cases.
Messier then provides an overview of different types of investigations and various tools and modes of investigation, covering types of investigations, investigation preparation, and basic procedures such as acquiring disk images, working with volatile information, recovering disk images, and how to work with hard drives and much more.
"The course opens a lot of doors for users to go and investigate specific areas," Messier says. "After completing the course, students will have a firm understanding of the digital forensics field, and be ready to choose their path of further study."
Free demo videos and a full list of course contents can be found on the Learning Computer Forensics Tutorial training page of the InfiniteSkills website:
http://www.infiniteskills.com/training/learning-computer-forensics.html
InfiniteSkills offers its Learning Computer Forensics Tutorial either as a DVD or a direct download from the company website at a retail price of $99.95. All InfiniteSkills titles and formats are both Mac and Windows compatible. Shipping is available around the globe. Additionally, InfiniteSkills tutorials are supported by project files which correspond to examples in the videos, allowing users to work alongside experienced instructors right on their computer or iPad.
About InfiniteSkills Inc.
A leader in the field of software training, InfiniteSkills strives to offer the highest quality training available at an affordable cost. InfiniteSkills tutorials are task-oriented instructional videos, teaching complex skills by providing hands-on examples and guiding users as they carry out critical objectives. InfiniteSkills offers a comprehensive range of software titles available as DVDs, digital downloads, and in iPad editions, keeping with company aim of delivering professional training to customers anywhere they want to learn.