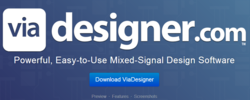 Help reduce the cost of mixed signal chip development by 99%
Winston-Salem NC (PRWEB) January 30, 2013
ViaDesigner.com is a global community of mixed-signal circuit designers that are pursuing the goal of designing and fabricating their own custom chips at affordable prices. The ViaDesigner.com community will have access to the award-wining ViaDesigner™ mixed-signal design and simulation software to enable system level designers to design custom ICs. The ViaDesigner software contains powerful, high-level design features that empower systems engineers to be chip designers without having to know the low level details of full custom design.
Throughout 2013, ViaDesigner.com community members will be able to:

Design & simulate sophisticated mixed-signal circuits in their desktop ViaDesigner software
Learn about mixed-signal circuit design techniques at ViaDesigner.com
Ask questions and get community provided answers from the forums and knowledgebase
Share design ideas and complete reference designs
Form teams to work on mixed-signal projects
Compete in ViaDesigner design contests
In 2014, the ViaDesigner.com community will tape-out a community defined chip utilizing via configurable array (VCA) technology from Triad Semiconductor.
"We are encouraged about the excitement that ViaDesigner.com is already generating in the analog and mixed-signal circuit design community" stated Reid Wender, founder of ViaDesigner.com "We already have hundreds of users registering each month and ViaDesigner.com is not even up and running yet."
Analog, digital and mixed-signal designers interested in reducing the cost of chip development by 99% are encouraged to register at http://www.ViaDesigner.com. By registering, designers will be kept up to date on the ViaDesigner mixed-signal design news, informed of the website's official launch date, and given early access to design tools.
About ViaDesigner.com
ViaDesigner.com is the website community of ViaDesigner, Inc. Founded in 2012 and headquartered in Winston-Salem, NC ViaDesigner, Inc. is focused on driving down the cost of mixed signal chip design. ViaDesigner, Inc. is a wholly-owned subsidiary of Triad Semiconductor, Inc. , http://www.TriadSemi.com, the world's leading supplier of via-configurable array (VCA) technology. Triad is a fabless supplier of ViaASIC mixed-signal IC solutions to the defense, aerospace, industrial, medical, automotive and consumer markets.