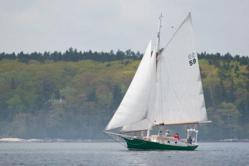 As the innkeepers told New England Inns and Resorts Association, a Spruce Point Inn sunset sail is one of the "best places to kiss in New England."
Boothbay Harbor, Maine (PRWEB) January 31, 2013
At Spruce Point Inn, where the innkeepers strive to ensure guests capture "oceanside memories, made in Maine," the spirit of romance blossoms at every turn. February is the perfect time to plot a plan for romancing the coast at Spruce Point Inn as the reservations line, catering and wedding planners are already looking forward to the Inn's opening in mid-May. For 2013 information and reservations, visit http://www.sprucepointinn.com or call 800-553-0289
When it comes to romance, the rocky coast of Maine and the selection of Maine resorts make an ideal backdrop for a couples' escape, thanks to thousands of miles of shoreline, secluded coves, woodland trails and cozy accommodations and creative chefs combine to lull guests into the romantic getaway mood.As the innkeepers told New England Inns and Resorts Association, a Spruce Point Inn sunset sail is one of the "best places to kiss in New England."
Although the Inn is closed for the winter, romance waits beneath the snow like the spring garden, capturing the hearts of brides who are considering the Inn as a wedding venue and lighting the imaginations of those planning a romantic summer escape for two to the Maine coast.
Accommodations at Spruce Point Inn range from classic, New England summer cottages, the ultimate in privacy for a try at setting up housekeeping to the historic main Inn where each room has its own personality, to the lodges with their residential hotel-style décor and amenities. A large complement of the Inn's rooms have fireplaces or gas-powered stoves designed to encourage snuggling up by the fire.
On the waterfront, couples will find kayaks and bicycles as well as expert advice on where to find the "secret places" that reward a bit of exploring with a great view or a taste of Maine that becomes one of "our" shared memories. One key feature of the waterfront, the Inn's own launch Bright Line and her personable skipper Sean will be back this season, offering tips on great picnic locations, pointing out wildlife and making suggestions for enjoying the Boothbay area at its best.
As part of its annual sprucing up, the Inn is adding several outdoor features to maximize its romance quotient this summer: a hidden bench or two on the waterfront for watching the sunset, more room around the fire-pit and landscaping to take advantage of dramatic natural features (such as large rocks and native growth trees).
Executive Chef Peter Stiles and Sous Chef Mark Weinerth are spending the winter off-season fine-tuning the restaurants of Spruce Point Inn. Each of the three has its own romantic appeal, from the breathtaking view at Deck, the oceanside café; to the Maine casual elegance of 88 to the welcoming warmth of Bogie's, the casual bistro. Marrying local ingredients, Maine classics and imagination, the chefs of Spruce Point Inn work at earning the positive reviews guests give the food at Spruce Point Inn.
About Spruce Point Inn (http://www.sprucepointinn.com)
In operation for more than 100 years, Spruce Point Inn is a distinctive and historic vacation destination for travelers from all over the United States. Its relaxing facilities have long been a part of the summer community and a backdrop for delightful "oceanside memories made in Maine." Located in the seafaring village of Boothbay Harbor, Maine (an hour north of Portland) and situated on 57 acres of stunning oceanfront and sheltering pine forest, the resort is a retreat of 9 guestrooms in The Inn, 15 classic cottages and cottage rooms, 56 modern lodge rooms and 5 townhomes. The convenient location, peaceful setting and spectacular coastal views have made Spruce Point Inn a premier resort for families, reunions, weddings and business events. For reservations, call 800-553-0289 or visit http://www.sprucepointinn.com