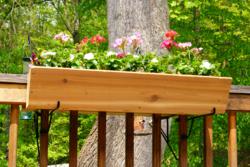 "We love my Rail Rockit brackets, we have one set we use for a shelf by the grill and 2 sets for our container gardens. When Bob ended up needing a walker we just lowered the garden so he can sit down while he takes care of it."
Thanks, Pat and Bob
(PRWEB) January 30, 2013
Blue Ridge Bracket Company of Asheville announces the Rail Rockit Slim Line container gardening brackets to their spring line up. Any homemaker or gardener into container gardening will be overjoyed with these perfect brackets. They install on deck, porch and even balcony pickets. From 1/2" up to 1 1/2" square, and that's with no tools and no damage. If there is a change in mind from one perfect spot to another or (someone else…..) after they are installed, that's no problem, they move as easily as they install. Just lift them up and they come right off. Slim Lines hold up to 50 pounds and are made right here in America from powder coated steel.
For the consumer who is not into container gardening? Blue Ridge Bracket has a full line of deck mounted brackets for just about any purpose, all of their brackets can be mounted at any height. If having a deck party is easy just move plants on the outside of the deck and serving shelves on the inside. Later move the plants back to the inside and drop the shelves down to end table height to enjoy a relaxing evening on the deck. Use the round brackets to mount an ice bucket for a cold beverage. Anything goes with these brackets. There is even have a flag pole holder for those special occasions.
The bird watchers are covered too. With 5 deck mounted feeder hangers to choose from they are perfect for everything from suet blocks to squirrel proof feeder. The versatility of these brackets allows bird feeder to hang on the inside or outside of any deck in just seconds.
There is even a way to hang these great brackets on steel, aluminum, vinyl or composite railings. Not just for wood decks, the Wrought Iron Adapters work on different size pickets and best of all they will not damage the paint or scratch the surface.
Blue Ridge Bracket Company was founded in 2009 based on a patented bracket system which is now the cornerstone of the companies success. For more information about Blue Ridge Bracket or any of their products please visit http://www.justrockit.com.