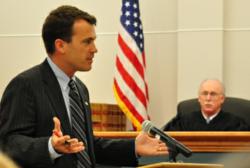 Cold cases don't get better with memory, they get better either with science or facts
Woburn, MA (PRWEB) January 30, 2013
A twelve person jury in the Middlesex County Superior Court acquitted Michael Ferreira, a Salem, NH resident, of a first-degree murder charge stemming from the 1969 murder of then 15-year-old John McCabe. Ferreira is one of three men accused of murdering McCabe 43 years ago. The jury issued its verdict on Friday, January, 24th of this year. The verdict was preceded by almost two weeks of testimony and several hours of deliberation by the jury in the Middlesex County Superior Court. According to court documents, regarding the 43-year-old cold case, docket number MICE2011-793, Michael Ferreira was accused of allegedly being involved in the murder of John McCabe, and then trying to cover it up by lying to a grand jury about McCabe's death.
According to an article in the Boston Globe, by John R. Ellement and Martin Finucane, Ferreira is said to have allegedly targeted McCabe, because he flirted with the girlfriend of one of the other attackers. McCabe was supposedly abducted, hog-tied, and left in a vacant lot where he suffocated. When he was found the following morning, authorities declared the cause of death to be strangulation by asphyxiation.
Attorney Eric Wilson, of the WBDK Law Firm of Nashua, NH, and criminal defense lawyer to Michael Ferreira, stated from the beginning in court documents that, "Cold cases don't get better with memory, they get better either with science or facts that cannot change over 43 years, and that's what this case will be all about." Attorney Wilson mounted a vigorous defense that focused on the credibility of the prosecution's key witness, Edward Brown of Londonderry, NH. According to court documents, Brown was originally charged in connection with the murder in 2011, but opted to be a State witness. As a result, Brown would receive a reduced sentence of manslaughter with no jail-time in exchange for his testimony and cooperation.
According to the Globe article, prosecutors will move forward with the second defendant, Walter Shelley's murder trial who has also pleaded not guilty to the first-degree murder charges. Debbie McCabe-Atamanchuk, sister to the slain victim, and Middlesex District Attorney Gerry Leone, will continue to look for answers in the 1969 murder of John McCabe. Leone maintains, "We will continue to honor the memory of John McCabe by continuing to fight for justice on behalf of him, his family, and the Commonwealth."