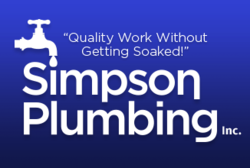 Camas, Washington (PRWEB) January 31, 2013
Simpson Plumbing Inc., a family owned and operated plumbing company in Southwest Washington has joined forces with Webfor, a Vancouver internet marketing company, to redesign its Website and expand its online marketing initiatives so as to raise awareness of the residential and commercial plumbing services they have been offering since 1980.
Serving the Vancouver, WA and Portland, OR metro areas, Simpson Plumbing Inc. provides services in regards to leak repair, faucet repair, repiping, remodeling, water heater installation and commercial plumbing. They frequently offer same-day service and are available for emergency plumbing work 24 hours a day, seven days a week .
To help build upon the company's online presence, Webfor has redesigned Simpson Plumbing's Website to include special offers, blog entries and a new interactive home map for diagnosis. The goal for the new Website is to streamline customer/user navigation and service understanding. The internet marketing company is also implementing search engine optimization and content marketing, among other services.
For more information about the services offered by Simpson Plumbing Inc., go to http://plumbernw.com/
About Simpson Plumbing Inc.
Dale Simpson and his wife Lori have meticulously cultivated the company's reputation for quality work, integrity, and fair pricing. Dale is a Journeyman Plumber with over 30 years of experience, which has afforded him the expertise and ability to handle any plumbing problem with certainty. In 2001, Dale's son Brad Simpson joined the company after years of learning the ropes from his father, and now specializes in residential services.
About Webfor
Webfor is a Vancouver, Washington Internet marketing company that provides a comprehensive set of solutions for its clients, including website design, SEO, content marketing and management, and much more. Whether a business simply needs a website redesign or a more sophisticated set of web solutions, Webfor serves as a virtual Internet marketing department for its clients with the goals of increasing sales and gaining a strategic advantage over their competition.