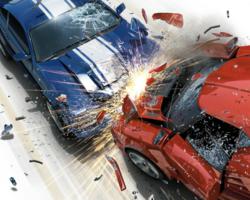 (PRWEB) January 30, 2013
Winter Storm Luna pushes into the northeast bringing with it the possibility of black ice and hazardous driving conditions. A combination of snow, sleet, and rain, with subfreezing temperatures will make driving a major challenge for most commuters.
Black ice is a thin layer of ice that forms on road surface. It is difficult for the driver to see during daylight hours. In the evening hours the road surface covered with ice will sometimes reflect the vehicles headlight beams and on coming headlight beams. Similarly the ice may reflect other lights from buildings and light poles. Be cautious when the road surface reflects light of any kind. Black ice may be covered by a layer of water, snow, slush or sleet.
Black ice can form on road surfaces with ambient temperatures above 32F. This can occur when warm air suddenly melts the surface snow and the ground temperature is still below the freezing temperature. With sunshine the roads may remain passable for many hours, but in the evening hours with the temperatures falling, the roads will cover with ice quickly. Vehicle exhaust on the road surface can create a similar effect. The hot engine exhaust will melt any surface material such as snow and it will refreeze into a sheet of ice when temperatures drop.
Bridges and overpasses will form iced surfaces rapidly because air circulates both above and below the surface causing the pavement temperatures to drop quickly. Be wary of these structures with light rains and plummeting temperatures. Posted signs will notify the driver of areas where ice has formed in the past. Do not ignore the warnings.
Drivers should be wary of driving into mountain ranges. As the vehicle ascends the slope the temperatures will continue to drop until the top of the mountain is reached. Any shady areas of the road will be a few degrees cooler and provide the perfect spot for ice to form.
What can a driver do when confronted with black ice? When driving on black ice it is best to not change lanes or modify the speed of the vehicle. Hitting the brakes could send the vehicle spinning out of control. A steady hand to gently guide the vehicle past the icy area and regain traction is what is called for. Avoid stopping and getting out of the vehicle around icy areas. Other drivers may lose control of their vehicles and crash into anything that's parked or disabled.
Keith Baumgardner is a forensic expert specializing in tire and wheel failure. He is a certified accident reconstructionist and has performed forensic analysis at Tire Consultants Inc. Alpharetta Georgia for the past 20 years.