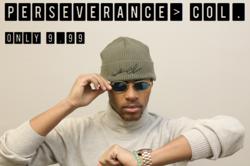 Obviously the sale of the year!
East Orange, New Jersey (PRWEB) January 29, 2013
Since the beginning of the winter Entrepreneur Label has made tremendous efforts to exert their love for Entrepreneurship. With the release of their Perseverance > Beanie collection, the young company has done just that. Lowering their prices to an all time low of $9.99 for their upcoming event at the Loft in Montclair, NJ. Entrepreneur Label are not only making brilliant progress with their progress but they are also offering an outlet for local brands and upcoming entrepreneurs in their community to flourish at The First Annual Tri-City Fashion Show set for February 8th, 2013.
Within the past month, Perseverance> beanies have been popping up every where around North Jersey. Owners of Entrepreneur Label say, "Our Beanies are not just an article of clothing they represent perseverance at its finest, we have struggle day in & day out to create these products, and we like our overall message to represent that."
Many college students as well as inner city individuals have taken a liking to the theme of Entrepreneur Label. The Perseverance> collection includes 4 significant colors that are becoming a commodity among New Jersey Residents; Purple, Red, Black, & Green. We say that to say this if your an Entrepreneur and believe working for any company where you are not the boss is impossible you should definitely own of these stunning hats.