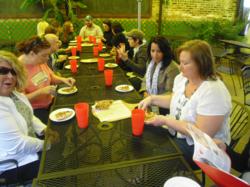 My friends suggested going after seeing it on TV. Glad we did!
Chicago, IL (PRWEB) January 30, 2013
That the Chicago Pizza Tours stands out as the clear market leader for foodie tourism is a testament to the passion and value the company offers its customers. It's a city synonymous with pizza, and since 2010, CPT has been busing locals and tourists around to the Chicago pizza scene's hidden gems, best mainstays, and emerging new stars. And the customers have, time and time again, matched CPT on the passion of pizza: Its customers have given Chicago Pizza Tours 70 Yelp reviews averaging a perfect five stars, and the same numbers are true of Trip Advisor, where it's also listed as one of the top tours in Chicago. And that's up against all the other non-food tours there, too.
The tours have grown exponentially in scope both in terms of capacity (there are now five guides taking groups on daytime, evening, and private tours) and exposure (it was featured on the Steve Harvey's talk show and also named one of the best tours in town by ABC's "190 North"), and there are plans to make it bigger and bigger. Building off recent additions like the Pizza & Cocktails tour, which has more of a party night-time vibe, in the coming year, CPT plans on adding a walking tour focusing on the history of deep dish and also Chicago's architecture and history.
Founder Jon Porter has built the brand by focusing on restaurants with high-quality ingredients that boast a wide variety of pizzas like VPN certified Neapolitan, artisanal, tavern-style, stuffed, and, yes, deep dish. Customers also learn while stuffing their faces what makes these styles distinct and how each restaurant puts their own twist on them: Typically, head chefs are present during the tour's visit to answer questions. After that, the guides feed customers Chicago and pizza trivia that even natives will often be stumped to answer.
Above all else, Chicago Pizza Tours aspires to create an atmosphere where customers are having fun, eating some great food, and might also discover their new favorite place to get a slice from. Corporate groups like Starbucks, Boeing, the Federal Reserve, and The Travel Channel, and private groups like 75 soon-to-be Northwestern University grads all serve as a great sample cross-section of who CPT has attracted. Park Districts like Ela Park, Wilmette, York Center, Maine Township, and others have hopped aboard and munched along like everybody else, as well. If you're a group that loves to eat and likes to learn, the Chicago Pizza Tour can is a perfect match for your stomach, mind, and schedule.
###