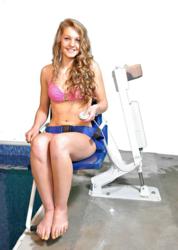 The U.S. Department of Justice says no public pool, spa or fitness facility will be exempt from the requirement, whether new or existing.
Ellensburg, Washington (PRWEB) January 30, 2013
Pools and spas have only until Jan. 31 to make changes if their property has not already added the equipment or made changes to their pools and spas to allow individuals with disabilities to have easy access.
According to an announcement by the U.S. Department of Justice, no property will be exempt from the requirement, whether new or existing. And the regulations are very specific in letting facilities know whether they are affected. They specifically define "public accommodations" to include "places of lodging." That means all hotels, resorts and fitness centers are affected.
If you hadn't previously thought your property was going to be impacted by the regulations, you now may be realizing that you don't have much time to become compliant.
WMS Aquatics, one of the newest members of EHospa, The Organization for Exceptional Hospitality, has been working for many months to educate the industry about the new deadline and its requirements. Its website features links to all of the pertinent details needed to ensure a facility is meeting the regulations of the Americans with Disabilities Act (ADA).
(EHospa is an international business-development trade organization for hospitality and recreation-related suppliers and practitioners that promotes its members to generate more business with a positive return on investment.)
The WMS website includes links to helpful resources, such as a "Swimming Pool Compliance Guide," an "Accessible Swimming Pools Guide," an "ADA Swimming Pool Accessibility Guide," details on "Means of Access for Swimming Pools" and "DOJ 2012 ADA Standards for Accessible Design."
Wayne Smith, president of the company, says, "The WMS Aquatics Sales Team is ready to assist you with selecting the products that best fit your needs in meeting all your ADA Facility Compliance Requirements." Smith encourages pools and spas who aren't in compliance to contact him for details on how his firm can help. He emphasizes that his firm carries a full line of ADA-compliant products from experts in the field of accessibility, such as S.R. Smith, Global Lift Corp., Aquatic Access, H20 Innovations, Triad Technologies Inc., Rehab Systems LLC and Aqua Creek.
WMS AQUATICS SPECIALIZES IN ACCESSIBILITY NEEDS
WMS Aquatics is a design-build contractor and equipment supplier for the commercial swimming pool industry. The family-owned firm, which has been serving customers since 1972, offers a complete line of deck, mechanical, recreation and competitive equipment for public or private recreational swimming and waterpark facilities.
Smith says his firm is committed to providing cost-efficient, high-quality aquatic products that satisfy his clients' unique needs in an environmentally friendly manner. And they do so, he emphasizes, "at a 100-percent customer satisfaction rate."
"Providing more than just catalog sales and service, we utilize our extensive knowledge and experience in a consulting role to help plan and facilitate the construction of pools for hotels, resorts, spas, cities, colleges/universities, school districts and athletic clubs throughout the United States," Smith says.
As a full-service consulting company, WMS Aquatics works closely with planners, architects, engineers and construction firms in the supervision of aquatics-facility construction and pool-rehabilitation projects in the Pacific Northwest. The firm uses state-of-art Myrtha technology to reduce pool construction time and provide customers with cutting-edge installations.
"In each project, we assist customers to ensure that their project goals are achieved by providing the best choices to fit the available budget," Smith says.
To contact Smith or his team for an assessment of how you can easily become compliant with the ADA regs, call 800-426-9460, send an email to info(at)wmsaquatics(dot)com or visit http://www.wmsaquatics.com.
NEED MORE DETAILS ON THE ACCESSIBILITY REQUIREMENTS?
Read the related article in the Knowledge Library of RandRBizPro.com.
This material has been prepared on behalf of WMS Aquatics by EHospa -- The Organization for Exceptional Hospitality. If you would like to learn more about how EHospa can help your hospitality- or recreation-related business generate more business with a higher ROI, contact EHospa to learn more at http://www.EHospa.org or contact ra (at) resort-recreation (dot) com.